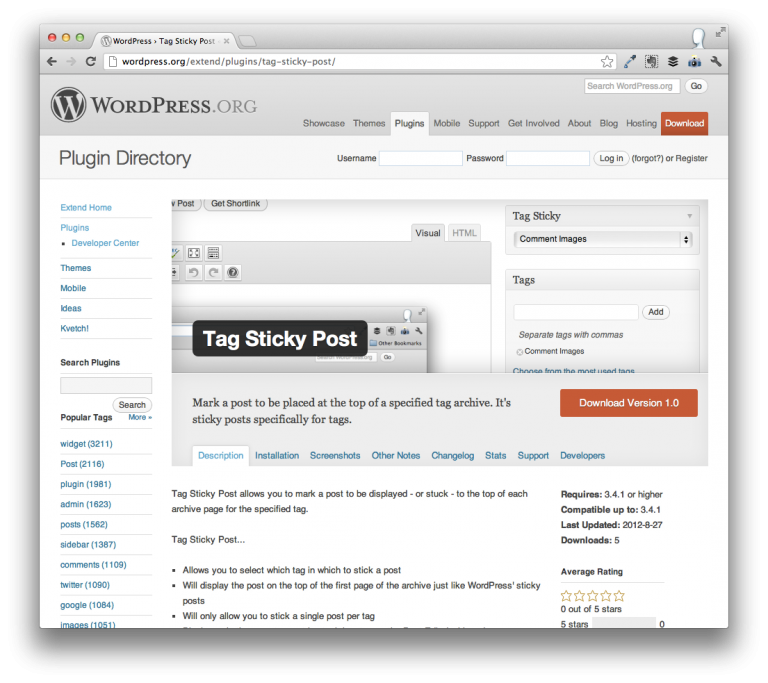 Tag Sticky Post for WordPress is a plugin that allows you to mark a post as sticky within a specific tag archive. It works exactly like the typical sticky post functionality within WordPress, except that it's specifically for tag archives.
This means that if you have a set of articles under one tag, you can mark one to always appear at the top of the tag archive.
This plugin came out of a direct need that I have for my own site: All of my projects are located in the Projects category, but each project has its own tag.
The problem is that I often write a post introducing the project, what it does, why I wrote it, and where you can find more information about it. But over time, I write posts that cover various updates or other issues about the project ultimately pushing the introductory post – arguably the most important post – lower into the archive.
The thing is, that post is the one I want readers to see as soon as they visit the archive. To solve this problem, I wrote Tag Sticky Post. You can see the plugin in action in the Comment Images archive.
Tag Sticky Post has the following set of features:
Allows you to select which tag in which to stick a post
Will display the post on the top of the first page of the archive just like WordPress' sticky posts
Will only allow you to stick a single post per tag
Displays whether or not a post is stuck in a tag on the Post Edit dashboard
Provides light styling that should look good in most themes
Is available on each post editor page
Is fully localized and ready for translation
Be sure to check out a variety of screenshots, too.
You can install it from the WordPress Dashboard or download it from the plugin's homepage.