For the past year, I've been using Kinsta as my host of choice specifically for this blog and I've been incredibly impressed.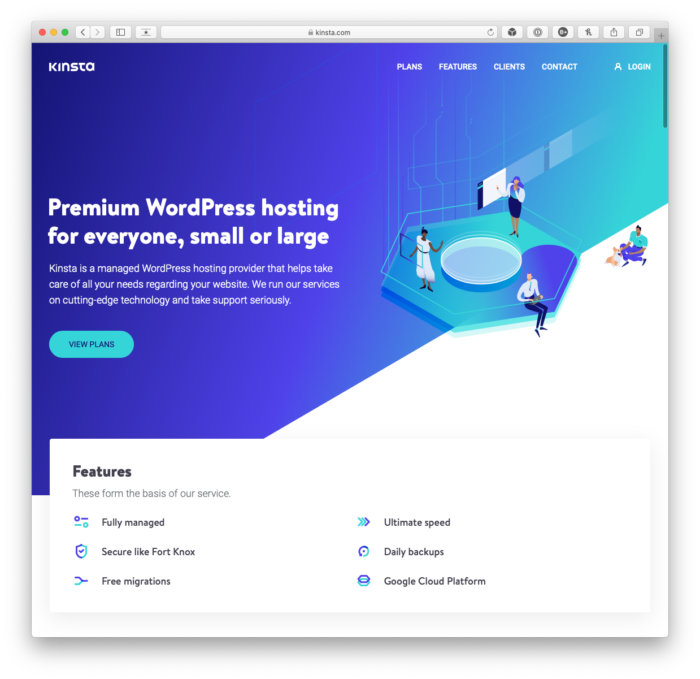 For me, it's not a decision made lightly specifically because I've been blogging for a long time (with no plans to change). As with anything, there's a handful of things worth considering whenever you're looking for a host.
On Performance
If the performance of your blog ever slows to the point that not even a caching plugin (or environmental tweaks) can help, then your visitors are going to notice. Further, if you're a business, you could be losing money.
It's frustrating, to say the least, and time-consuming especially when it comes to a provider that doesn't offer solid support let alone reliability or performance that you expect.
Doing a quick Google search or Twitter search will yield extremely positive experiences, but from personal experience I can attest to their quality. Further, when they first began architecting their solution, they set out to build a host that was different than much of what we've seen on the market.
Specifically, they now work with smaller blogs (such as yours truly) all the way up to brands like MariaDB, TripAdvisor, Freshbooks, and more.
Customer Support
Arguably, one of the most important factors that comes with a host is the level of customer support especially when it comes to one that aims to satisfy both the small blogger and the enterprise-level system.
Typically hosting providers will have assign different level tiers based on experience. This is how it's been done for decades. Kinsta mixes it up: Instead, they employ only high-skilled WordPress developers and Linux Engineers.
This means when you need help, you to get to chat with the same team members that are backing their Fortune 500 clients. Their support team is always just a click away 24×7 365 days a year when you need help.
On Performance
Kinsta was the first managed WordPress host on the market to exclusively use Google Cloud Platform. This allows them to roll out new data center locations right along with Google. Currently, have they have 18+ data center locations around the globe and are adding new ones every quarter.
They took this a step further and threw in Google's premium tier network on all plans to ensure your WordPress site is one of the fastest networks in the world. Bundle this with their included HTTP/2 CDN, and you're talking lightning fast load times with low latency (which is specifically interetsing for the network and performance geeks reading this).
Scaling WordPress
Scaling a WordPress site when it's under a heavy load or getting a surge of traffic is one obstacle many hosting providers have yet to conquer. To fix this problem, Kinsta utilizes orchestrated LXD containers, which allows for complete isolation of resources (Linux, PHP, Nginx, MySQL). Nothing is shared between your sites or others. This guarantees security by design and autoscaling to keep your site online at all times.
A few features included on all plans include:
Latest and greatest tech stack. PHP 7, 7.1, 7.2, 7.3, MariaDB, Nginx, Google Cloud Platform, HTTP/2 CDN. Kinsta supports the latest PHP versions faster than many of of other hosts that I've tried.
Built-in server cache. Automatic page caching for faster page loads. No need for a third-party caching plugin.
Dev-friendly tools. SSH, WP-CLI, Git, and free SSL certificates on all plans. One-click staging and cloning environments along with multi-user level and access permissions.
5 types of backups. Automatic daily backups, manual backups, downloadable backups, and system generated backups. You can restore your site with one-click, and they have an hourly backup add-on for those with sites where data is constantly changing.
In 2019, Kinsta has improved things even more:
Have a more complex or e-commerce site? Don't worry; Kinsta works with large WooCommerce sites on a daily basis. They have multisite support and add-ons for additional robust caching like Redis and Elasticsearch. They can handle reverse proxy configurations and even support custom setups like Bedrock and Trellis.
Site Management
What about management of your WordPress sites? Kinsta doesn't offer the all-too-familiar cPanel. Instead, they offer MyKinsta. This has been designed from the ground up with both WordPress users and developers in mind.
Tasks such as taking and restoring backups, pushing sites to staging, installing SSL certificates, all can be done with a few simple clicks. Furthermore, the DNS management from within the dashboard is fantastic.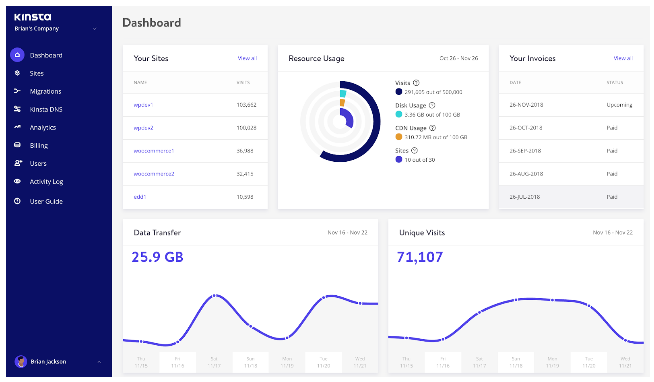 If you're tired of slow performance and downtime, I strongly urge you give Kinsta a try. Their all-in-one WordPress hosting platform, allows you to spend more time focused on your business and less time on all the nitty-gritty day to day stuff.
Kinsta fully stands behind their service, which is why they offer a 30-day money-back guarantee with no long-term contracts. Get started today with a free migration.