Creating a better blogging experience with WordPress can mean different things to do different people.
I think experts, developers, etc., have a leg up on the rest who want to have a streamlined workflow for how they draft content, respond to comments and generally, work within WordPress more so than the average blogger does.
Maybe I'm way off base. But when I see plugins like Postmatic who are aiming to improve commenting within WordPress and I see projects like Stuttter aiming to create single, useful tools for people who use WordPress, I can't help but wonder:
I believe something about WordPress affords having a better blogging experience. But what might that look like?
A Better Blogging Experience
When I think of "a better blogging experience" within WordPress, I think of end-to-end solutions that allow us to write our posts in a more streamlined manner, that allow us to respond to comments more easily within the WordPress dashboard, and so on.
Don't get me wrong, other aforementioned companies are doing an amazing job at introducing their own take on this and I'm not disparaging them in the least. In fact, I've nothing but respect.
I've been blogging for a long time – like many of you – and during that time, I've developed small tools that help streamline my own process for writing daily blog posts.
To that end, I thought it might be worth releasing some of these plugins to the public. To that end, I'd like to introduce Pressware Plugins.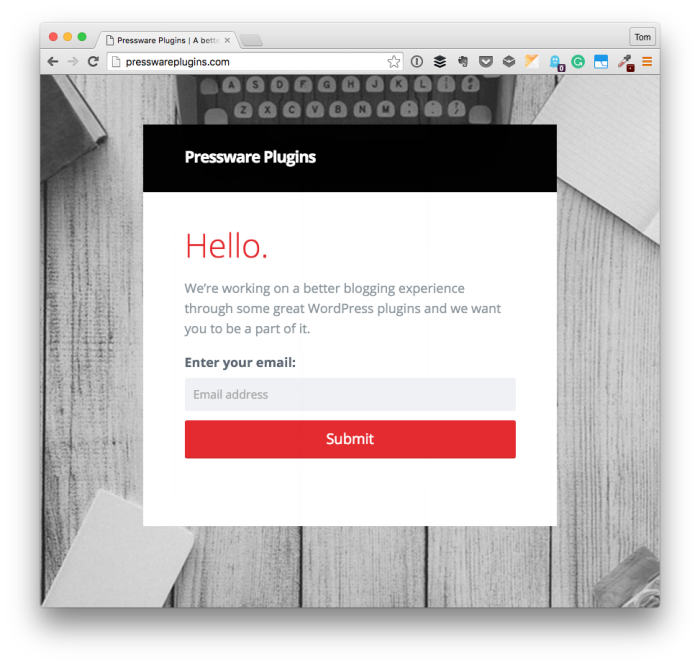 In short, the idea behind these plugins is to provide a better blogging experience (as if that wasn't clear enough from this post already, right?)
With the help of another established blogger, I'm looking to begin putting together a mailing list for those who are interested in what we're working on.
Here's the gist:
By the end of February, the goal is to have our first premium plugin ready for sale.
We have more planned and are hoping to iterate and release quickly.
Further:
The plugins will be available on GitHub (without support)  because open source is pretty fantastic.
The plugins will be geared towards bloggers, not developers (though developers are certainly welcome to use and issue pull requests and obviously use the plugins).
We'll be announcing more about this particular effort in the coming weeks.
So, if you're interested in what we're doing, head over to the Pressware Plugins page, sign up for the mailing list, and we'll be in touch.
I'm excited about what's to come. Admittedly, there's a long road ahead building a suite of plugins, but that's going to be fun and I'm eager to see the customers, developers, and potential customers engage with this idea.
Clearly, blogging is a powerful medium through which we can all express our ideas. We love it, obviously, and want to do what we can to help make it easier for everyone else doing the same thing.