It's been a really busy month, so this episode is coming out just about as late as it can for a monthly podcast.
If you're reading this post, then chances are the latest episode is already available on your favorite podcast service.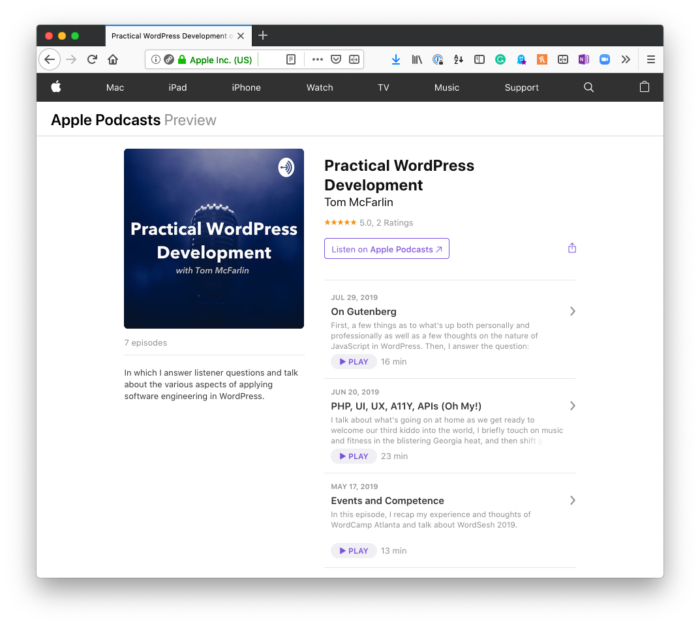 In this particular episode, I've got a new sponsor with a coupon code specifically for listeners, so be sure to check that out (in addition to the content, of course).
And with that, here are the notes from the episode.
On Gutenberg
What's Up?
As we continue to meet Kiddo #3, life's getting busier and busier.
I'm enjoying the work I'm continuing to do at WDS.
I recently had the opportunity to be on Cal Evans' podcast and to write the foreword to his upcoming book on the WP REST API which I'll share more about once it's released.
As mentioned in the last episode, we did binge Stranger Things and thoroughly enjoyed it. I also recommend a podcast for those of you interested in the "behind the scenes" of the show.
July's Question
WordPress 5.0 and Gutenberg
What are your thoughts on WordPress 5.0 and the new Gutenberg editor?
I'm happy to share my thoughts on this now that the proverbial dust has settled; however, I come at it purely from a developer-centric perspective as I'm not concerned with the social aspect of the change.
It's been a long time since we've seen a new technology introduced into WordPress and this is exciting.
The value of learning React will reach greater than just WordPress.
Publishers, authors, bloggers, and writers are eager to use the new editor (and I'm speaking from interacting with them) because it continues to close the gap between what they write and what they say.
Regardless of how you feel about it, Gutenberg is going to be the editor for WordPress, the Classic Editor will eventually go away, and we're going to need to continue moving forward with our skillset to keep up not just with WordPress but the array of tools currently available to those of us working on the web.
For August
I'm thinking of taking the next month off of social media (as I tend to do at various points throughout the year), but you can always reach me via email. And you can submit questions on this page.
I'm looking forward to recording next month's episode earlier than I did this month's episode 🙃 and continue to look forward to the questions that are coming in for each episode.
Don't forget to check out this month's sponsor – it's a good one, especially for the developer types.
And finally, I appreciate your sharing the podcast with whatever service you're on or whoever you think may enjoy it.
Where to Listen