Earlier this year, I talked about why I recommend Array Themes. I'm also proud to call myself a partner of theirs.
If you haven't read the article, that's okay (I don't expect people to read everything here). The gist of why I'm such a fan and why I've selected them as my theme partner include the following:
They offer impeccable design for a variety of authors.
They have beautiful typography.
They follow the WordPress Coding Standards.
They sell within their own shop, WordPress.com, and ThemeForest.
They create themes for almost any niche of blogging.
They offer exceptional quality in a marketplace crowded by those with products that often fall flat.
…And more.
Additionally, Array offers a free plugin compatible with their themes that enhances native functionality.
So, if you've missed it, that's why I'm proud to call Array a partner of this site. But that's not what this post is about.
Instead, I'm excited to share their latest release (and offer you something special for it!).
Paperback For WordPress by Array Themes
In short, Paperback is the latest theme provided by Array. It aims to stand apart from the rest of the themes out there that claim to stay out of your way when creating content.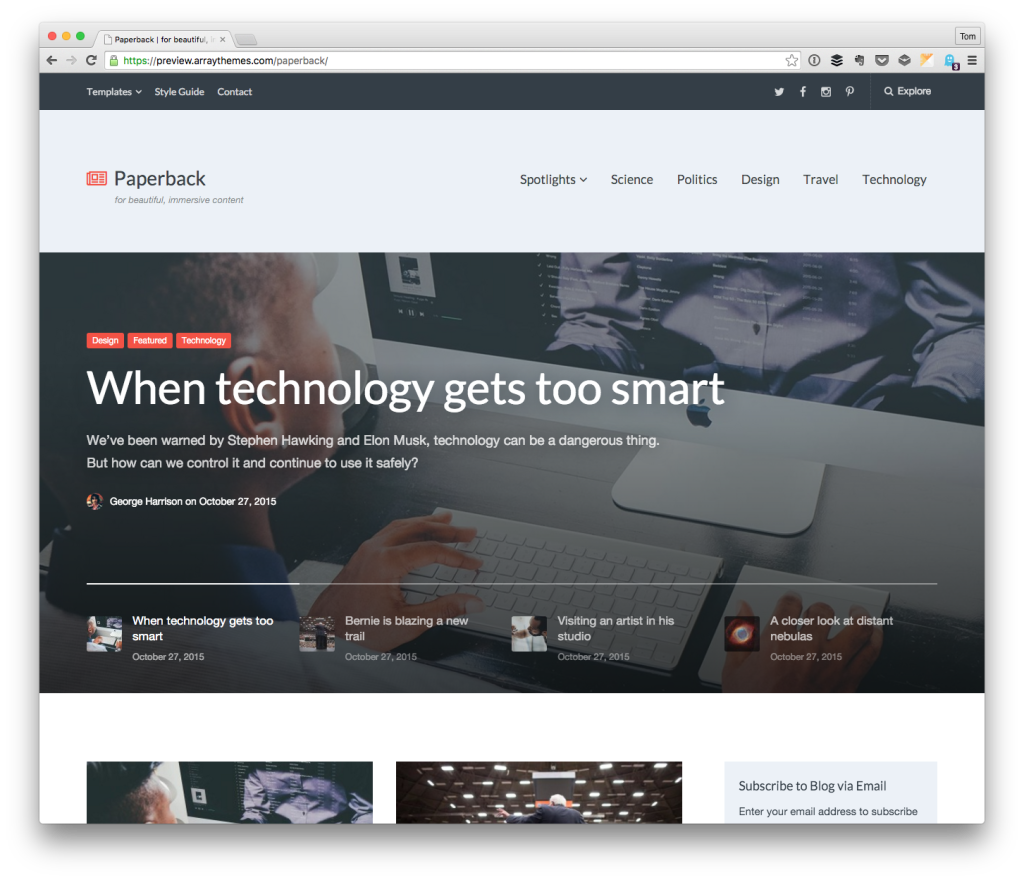 For many of us – and even those new to the WordPress economy – many themes claim to stay out of your way, but often have clunky features. Further, what they provide in layout doesn't often match what you see when you begin to draft your content.
This is not the case with Paperback.
Instead, you can begin writing content out of the box and it will look great. But this raises the question:
What if I already have content?
No problem. The theme will take that content and seamlessly integrate it into the theme.
Additional Features
On top of a sleek design, the theme also offers the following features that help promote the discovery of your content:
Featured Posts Header
Category Drop Down Menus
Responsive functionality for mobile devices
Typekit Fonts
…and more
Perhaps the best thing is that all this comes with the theme – it's not part of an external plugin. Not bad, right?
And if you're a designer or developer, then the team has provided a Style Guide that provides everything you need to build a site using this theme. The style guide includes everything you need with respect to images, typography, headings, code, and so on.
I'm not a fan of promotional-only posts, though. Instead, I like to try to share the things that I love about the products and then offer you something in return.
A Discount on Paperback
That said, the team at Array have been kind enough to offer readers of this site a discount on this theme. Specifically, you get 20% off the theme for one month (through December 18th).
Visit the homepage, select Paperback, and then upon checkout, just enter the code PAPERBACK20 and you should be good to go!
Thank You!
Finally, thanks so much for being a reader of this blog. Ultimately, I hope to provide you all with resources that help you go further with your online publishing.
I've some plans to do exactly that with the upcoming year, but in the meantime I think it's important to have a solid foundation in place. And themes by Array are arguably the strongest place to start.