When I first set out to offer memberships on this site, I knew the first thing I wanted to tackle was an introduction to object-oriented programming.
It's something that seems to be interesting to most people who are working in WordPress, but there's a problem that either turns a lot of people away or generates poor results:
Object-oriented programming can get complicated fast. And this gets demotivating.
Here's what I mean: Say you're a WordPress developer who starts to research object-oriented programming. It starts off talking about classes and constructors and functions, and all seems well.
But then it quickly gets into:
private and protected methods,
inheritance,
polymorphism,
design patterns,
dependency injection,
repositories,
and so on.
It snowballs, doesn't it? And that's not at all how it has to be, but it's hard to find a proper introduction save for a few resources that are out there.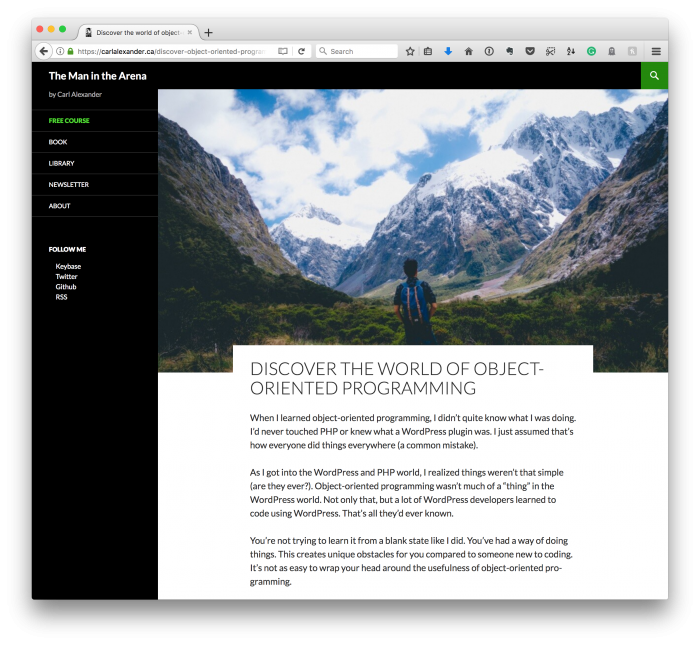 With all of that said (and serving as a backdrop for where I'm headed), I wanted to set out to create a series of content for those who:
are genuinely interested in object-oriented programming,
aren't sure where to start,
want to grow their skills,
want to start from ground-zero without escalating into more complicated material too quickly.
And that's what I'm starting today and in the first major serious planned for members. With all of that said, let's get started.
Specifically, let'st started talking about object-oriented programming, analysis, design, and why she should start there.