Based on active installs, ratings, and the like, Scheduled Post Shortcut isn't what you'd call a popular plugin. Far from it, actually. But I'm okay with that.
Remember that when Eric and I first started releasing these plugins, the goal was not only to create small plugins that solved problems we were experiencing as bloggers, but also to do so in a way that made it as simple as possible for others to use in their day-to-day writing.
And since there are problems that he and I still experience, we continue to update the plugin.
"Critical Update" To Scheduled Post Shortcut
For those of you reading who have just stumbled across this particular post, the whole purpose of the plugin is:
Easily access your scheduled posts from the WordPress dashboard and with keyboard shortcuts.
And that's it.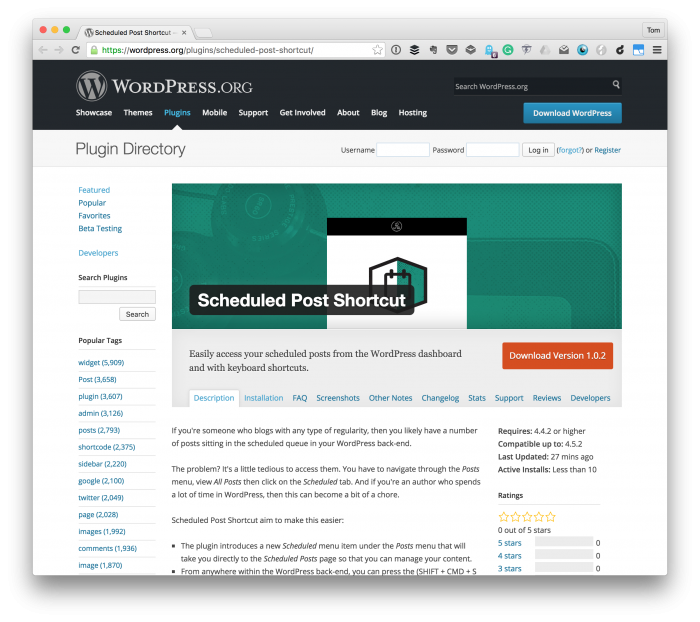 Since its initial release, the plugin has had two updates the last of which was more of a "hot fix" or a "critical update" depending how you view version numbers (though the actual fix wasn't detrimental to one's blog or the security thereof).
In short, the latest update:
Updates the menu item so that if you have more than 10 schedule posts, the count correctly reflects that.
If you're a personal blogger, then the odds that you have more than ten posts scheduled is likely small. Then again, I don't know your habits.
If on the other hand, you have a team of bloggers, then the odds that you have more than ten posts is likely much higher. This fix, then, fixes a misleading representation of your content.
Again, it's not exactly a "critical fix" or anything like that, but it resolves a problem you and your team might have experience when using it prior to this.