In November 2014, I stumbled across Postmatic which aimed to make WordPress comments a bit easier to manage (for those who end up getting any form of comments on your blog).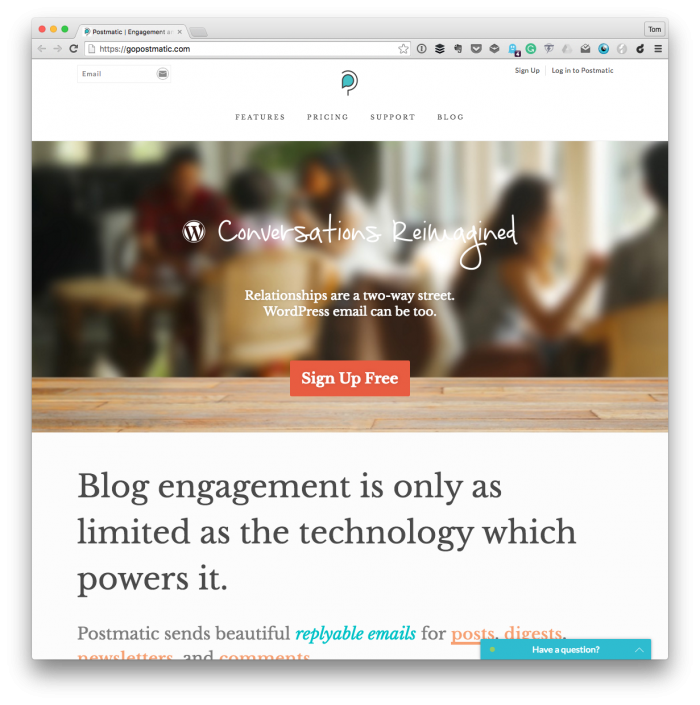 Since then, I've written several posts about the service. These articles span from 2014 up through the middle of last year:
And to this day, I'm still a fan. Jason, Dylan, and the rest of the team (along with some help from guys like Carl and Josh) have continued to put together an amazing service that makes responding to comments that much easier.
I know: This first little bit sounds a little bit like a sales pitch, and that isn't my style, so I'll refrain from talking about the plugin and the service from that angle anymore.
But I will say that I've been using Postmatic since the beginning and following up with comments has always been much more pleasant of an experience when I can do it from my inbox.
As the product keeps maturing, more and more useful features are being built into it.
Still Improving WordPress Comments
The initial version of Postmatic was to improve WordPress Comments – and it did – but as the product has grown, it's also solved some other problems.
Companion Plugins
Some of you may be familiar with its companion plugins, as well. These plugins are:
Epoch positions itself as a Disqus alternative that provides real-time commenting so you can see what others are saying as they are submitting or replying.
Social Commenting, which allows us to leave comments on blog posts without having to fill out the rest of the form. So if you're on Twitter, for example, you select the Twitter icon, grant permission, then leave a comment.
Though I don't use either of these at the moment, they do offer some nice enhancements to native WordPress comments.
What About Postmatic?
But enough with the tertiary products, right? If you dig them, use them. But I continue to be a big fan of Postmatic and with the latest release, I'm digging on some the new features.
Though it'd be fun to go through all of the features in detail, I also know that it's faster to read through a summary of features and what each does to help make a decision.
To that end, I'm going to highlight some the features including those of which I enjoy the most.
If you've amassed a list in MailChimp that you'd rather manage within WordPress so that you can send them posts, etc. from within the admin, Postmatic now has an importer. The cool thing is that it not only includes an importer for MailChimp but Jetpack and Mailpoet, too.
Speaking of which, Postmatic now features webhooks that will allow you to keep various services connected to one another. So, for example, say something happens with MailChimp, and you want to pump that information into Postmatic, you can do so via Zapier because of the available webhooks.
For those who subscribe to your content, you have the ability to send them posts via email, send them daily, weekly, or even monthly digests of all of your posts (which can be good especially if people don't have the time to read your content as soon as it comes out).
Depending on how you set up, frame, or create your posts, you may just want to send the excerpt to your users and have them visit your site (versus sending them the entire post). Postmatic allows you to determine how much content you want to send before publishing your post. Furthermore, it also gives you the ability to preview what your subscribers will see when they receive the email.
Flood Control is a really useful feature that prevents you from receiving too many notifications if a post has a lot of activity on it. For example, say that this post was to go viral (of course this post is not that type of post, but you get the idea). The post would then start garnering more attention and ideally more comments. If you receive N-number of comments in a given hour, then Postmatic will pause notifications after that threshold has been reached, so you aren't inundated with emails.
Custom Templates allow you to style the emails that are sent out to your subscribers. Perhaps the coolest thing about this particular feature is that it's smart enough to look at the theme on your site and then extract the colors from it. This helps create some cohesiveness between what your readers see on your site and what they see in your inbox.
As great as all of the above is, you're also given support via documentation, a directory full of widgets to help others interact with your content, and the ability to submit tickets that the team. And regarding support tickets: The team will respond to whenever that's needed (and this can be a bug, a feature request, a general question, and so on).
Yes, there's more to this plugin and this service than what I've listed above so you can do much more with it than what I've provided. But hopefully, given the list above, you can see exactly why I'm a fan of using this service for WordPress comments.
Ultimately, I think it gives those who subscribe a better experience, and it also makes it easier to handle reading, monitoring, and responding to comments much easier, as well (at least, if you're used to running the majority of what you do online right from your inbox).
Why Share All Of This?
Though I generally share content that's geared towards WordPress development, I occasionally break and share content focused on different aspects of blogging itself. Part of this is because I, you know, enjoy blogging. And part of that is working with comments (and that's why I'm such a fan of this service).
I can't say enough good things about the team behind the service, either. Not once have they ignored a request, let me down with a reply, or even failed to ask how my experience has been in using the product. It's a rare experience to find customer service like this in the WordPress product-space. Don't get me wrong: There are great people and great products, but there's also a lot of noise. It's nice to encounter those who are standing above the rest.
A Regular Blogger?
If you're a blogger and who enjoy chatting with others via comments and want to give them the best experience possible as it relates to talking with you about any given post, then I can't recommend Postmatic enough. For me, it's increased engagement, decreased frustration, and it's helped my subscriber list grow (not that I'm doing much with it, but it's nice to see the numbers climb :).
I also know that there are at least a few other readers who are interested in getting into blogging and have emailed me asking me about various tools, strategies, etc. I'm working on a new project specifically for this that I'll talk about later.
But until that's ready, I thought it might be worth sharing a few things here and there that I use to help streamline the whole process (from drafting to publishing and to responding to comments).