I finally published the first episode of the podcast. I've opted to title it a Practical WordPress Development Podcast.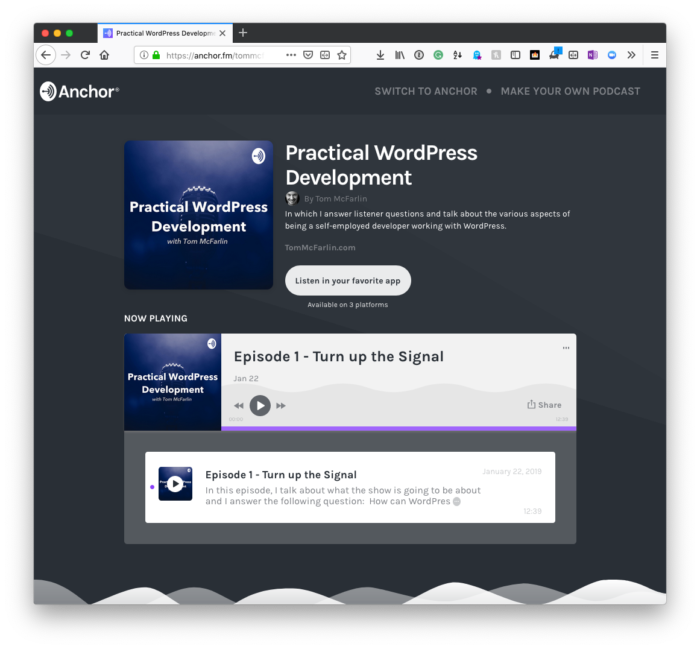 The premise is simple:
It's a podcast in which I answer listener questions and talk about the various aspects of being a self-employed developer working with WordPress.
Depending on when you read this, the show may or may not be available on your favorite service (but it's coming!). In the meantime, you can check it out on Anchor.
All of the notes and the content for the show are covered later in the article.
Episode 1: Turn up the Signal
Before jumping into the podcast, I'd like to that WP Sessions for sponsoring the show.
If you opt to listen, then you're going to hear a fantastic deal with those who opt to listen to the show (and this will continue with the few episodes).
With that said, check out the show notes (which are broken into two segments) below.
Part 1: About the Podcast
The premise of the podcast is that it's about WordPress development and it's framed around the same content I publish on this blog.
Future episodes will have more content about what I'm working on, the challenges I've been facing, or musings on various aspects of the WordPress economy.
This one, however, is not like that. Instead, it's more about what's going on and where it's headed.
I'd also be neglecting a glaring aspect of this podcast: The production value. Given that this is the first episode, there are some things that I'm going to work on and tweak as future episodes are released. For the most part, though, I'm not too unhappy with how it came together.
Part 2: Q/A
This episode's question is as follows:
How can WordPress developers focus on deep work and avoid the noise which occasionally surrounds the community?
Depending on where you sit, you may say there is noise, or there isn't.
What some people consider noise, others may consider it a signal.
You need to find what's more informational, what's more of a signal to you, and dial that up (while dialing down the noise). But what does that look like?
Take advantage of do not disturb, mute, block, don't follow people, don't read the comments, and more.
"Is participating [in this conversation] going to enhance or prohibit my productivity?"
Handle the day, don't let it handle you.
In the podcast, I reference the following:
And, as mentioned in the episode, you can share your questions, comments, and feedback on the official podcast page.
Where It's Available
If you enjoy the podcast, have a moment, and don't mind providing a review or rating, I'd appreciate it!