The Internet has made the world flatter but that doesn't mean it's made it any easier to miss out on events that you'd like to attend, right?
Last weekend, WordCamp San Francisco – arguably the WordCamp to attend – was happening and those who are involved in WordPress in some capacity were tweeting all about the awesome things happening.
Jealousy!
In all seriousness, it was evident from the various tweets and blog posts that it was a killer time for everyone, but here's something cool for those of us who weren't able to attend: 23 pages of notes taken from the various sessions held throughout the weekend.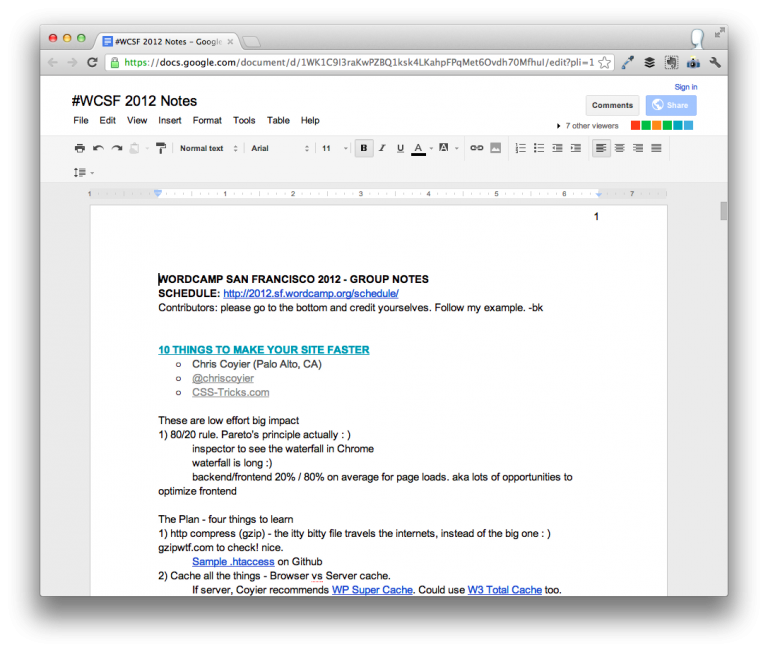 Shortly before the conference started, Brian Krogsgard started up a Google Doc for anyone to contribute while they were hanging out and attending sessions.
Awesome, right?
The document includes topics on:
Making Your Site Faster
Automating Performance
Foundations of Fast Plugins
The State of the Word from Matt
Custom Post Types
Avoiding Mistakes with jQuery
…and much more
Obviously, there's something for everyone regardless of your skill level in the document.
Perhaps this isn't a bad idea to adopt for WordCamps everywhere, huh?