Some time ago, I talked a bit about the WordPress Developer's Club (which is still alive and kicking). But since that post, Tonya Mork and others have been working on something called Know The Code for the last few months.
There's an active community, a ton of educational content, assignments, labs, explanations, examples, and so on. If you're a budding WordPress developer or someone who's looking to get into professional WordPress development, I recommend it.
But in an attempt to go to 11, Tonya and Know the Code is looking at offering a WordPress developer bootcamp specifically for those who are looking to take it a step beyond the code itself.
WordPress Developer Bootcamp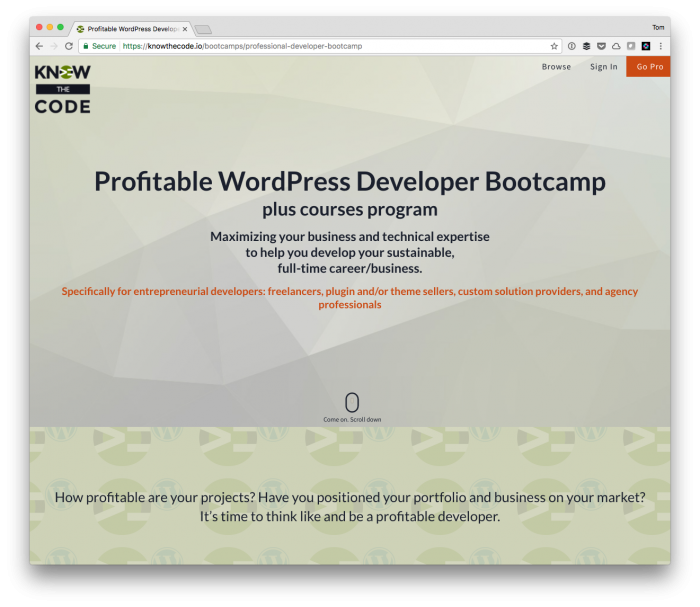 You can read all the details about this on the event's homepage, but here's the gist:
We're planning a Bootcamp just for you. It will be a holistic, intense, and immersive full 5-days Bootcamp, followed by a series of courses you can do when you get home.
Right now, it's very much in the "gauging the interest" stage, but I'm particularly excited not only because it's geared towards professional WordPress development and building businesses around it, but because some my friends and I have the opportunity to share our experiences, as well.
As of this writing, the following are all scheduled to be present at the talk (in addition to myself):
And Tonya's still working on getting more speakers and presenters.
During our time during the conference, we're looking to cover some of the following topics:
Designing your businesses, the problems it will solve, and the value it will bring,
Managing projects, customers, budgets, scoping work, milestones, and more,
Creating a development workflow, solutions, testing, continuous integration,
Deployments, bug tracking, few requests, approval processes,
And much more.
If you're already a successful business owner, freelancer, or WordPress developer and you've got these things on lock, then you're likely good to go. If on the other hand, you're on the cusp of wanting to take your passions for WordPress and move them forward much further, then this may be the conference worth attending.
It's Not Ready For Registration
As mentioned earlier, this is purely in the informational stage so even if you're just the least bit interested, check out the page and sign up (it's not a registration – it's just an email list :).
If enough people are interested, then we're going to look at putting this thing on and doing a full force WordPress developer bootcamp.
But we need input from you so let us know.