When working with WordPress plugins, the software should aim to solve a problem that a given type of user is experiencing. Granted, some plugins are more nuanced than others.
Take, for example, the idea of the various tables, lists, and columns available in the admin area of the WordPress dashboard. When working with WordPress admin columns, a good solution should expand the core functionality of WordPress and do so in an unintrusive way.
That's what Admin Columns aims to do.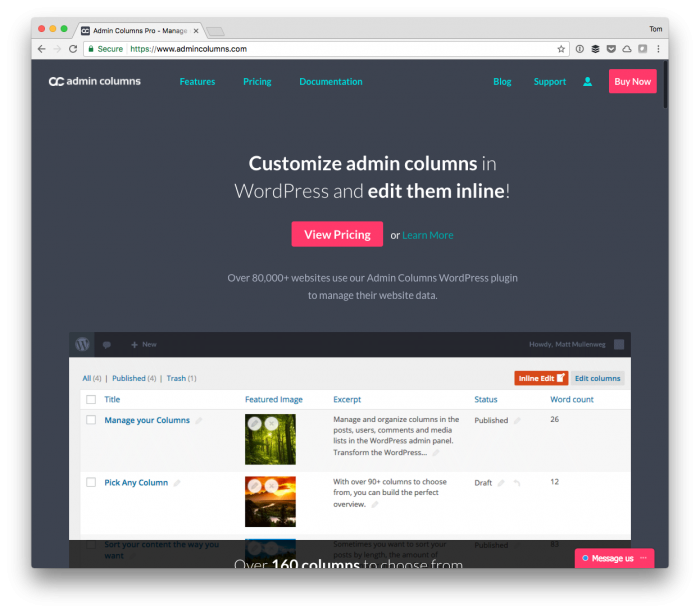 To elaborate, Admin Columns allows you to manage columns in your WordPress admin area. You can create, edit, and remove columns from the overview pages of blog posts, pages, users, comments, categories, and more. All custom post types and taxonomies are supported by the plugin.
Since 2011, the free version of the plugin has been available and installed on 80,000 WordPress-based sites; however, the latest release of Admin Columns Pro introduces many additional features.
Some of these include:
sorting,
filtering,
inline editing,
import and exporting columns.
But there's much more to it than that. I've had the pleasure of speaking with David on behalf of the development team and am stoked to share what they've built for the lastest version of this project.
WordPress Admin Columns
Before getting into too much detail, here's a list of the features you can expect in Admin Columns 4 (which is the first major update since 2014):
bug fixes,

refinements,

and more (which I'll cover later in the post).
When talking with Jesper about this particular version and why it's so significant, he stated:
If you've followed the development of the plugin, you know that Admin Columns has been in a constant state of evolution, but this is arguably the largest update of the product since the initial pro version of Admin Columns was released.
Exciting, right? Whenever there's a piece of software – be it an iOS app or a WordPress plugin that introduces and expands on a significant amount of improve functionality, I look forward to trying it out.
Integrations for Toolset Types and Pods
As far as this release is concerned:
One of the most important goals of this release was to make it more compatible with other plugins.
The existing version of the plugin already enhances existing software that a number of popular plugins such as Advanced Custom Fields, WooCommerce, and WordPress SEO.
Admin Columns 4 adds two more to this list: Toolset Types and Pods. Both plugins are used to add custom fields, post types, and taxonomies to the WordPress admin.
WordPress Multisite
Furthermore, WordPress Multisite users will be happy to hear that Admin Columns 4 ships with 17 columns made especially for managing a network of sites.
For a complete reference, check the documentation. 
For those interested in a high-level view of what to expect, these columns should be very useful:
A site options column. View and edit any option associated with a network site
A used space column. Uses a graphical display to highlight how much space is being used, left and available in total for a network site
A themes column. Informs you which theme a network site is using and which themes are available to it
A plugins column. Shows you which plugins are network activated and which are unique to this network site
A post and comment count column. Shows how many posts and comments a network site has
Horizontal Scrolling
Admin Columns has always supported an unlimited number of columns in your overview pages. But when too many columns are added to a page, it becomes difficult to read the content as everything has to be crammed into a small area.
That is why the latest release now includes horizontal scrolling.
From the development team:
Specifically, selecting horizontal scrolling from the WordPress screen options panel allows the main content area to be expanded and ensures that all data is displayed in full.
You can then scroll through all columns using either a horizontal scroll bar or using finger gestures on your smartphone or tablet. This is a nice enhancement, in my opinion, that definitely resolves cramming the content into the viewport of the screen.
Date Formatter
Whether it be the publication date of an article or the date a customer completed an order, the date field carries significance for anyone publishing any content.
Admin Columns 4 introduces date formatting settings. You can now specify how you want dates to be displayed on your overview pages:
For example, you could display Christmas Day as 25 December 2017, 12/25/2017, or something unique using the custom date option. You can also select "time difference" if you want to show how long ago the date was (such as three weeks ago, two months ago, and so on).
Enhanced Filtering
The plugin has also added improved filtering options so that you can find and edit data more effectively.
Ranged Filtering. This will help you filter data between any two values (and there are no restrictions on how you use this). For example, you can filter articles between two dates, orders that are priced between $10 and $30, or users with surnames that start with the letter A through to D.
Label Filters. The WordPress user interface does not label filters, but the latest version of the plugin includes this feature so that you can quickly find the filter you need.
More Improvements
In addition to everything that's listed thus far, users can also expect:
an improved user interface that aligns closely with WordPress,

multi-line editing will allow you to edit lists e.g. a list of related Posts,

color pick editing will show a color picker when inline editing if column stores a color,

the option to either use a taxonomy column provided by the plugin or the default column that WordPress shows when you add a taxonomy to your theme.
Final Words on the Admin Columns 4
I think it's clear that Admin Columns is a massive improvement over previous versions of the plugin. All of the changes made show how receptive they are to customer feedback and suggestions.
Support for WordPress Multisite and WordPress plugins such as Pods and Types expands the functionality of Admin Columns. Other new features, such as horizontal scrolling, show that the development team is still working to refine the product further into the next version.
Admin Columns was already a great WordPress plugin, but this new release considerably improves the product.
If you haven't used Admin Columns, it's worth testing the free version on your website to get a better idea of how the plugin can help you administrate your website.
Furthermore, existing users of Admin Columns Pro should download the latest version to take advantage of all these new features.