The First Version is the name of the membership site I launched just last week to help those who are interested in getting started with WordPress development, you know, get started with WordPress development.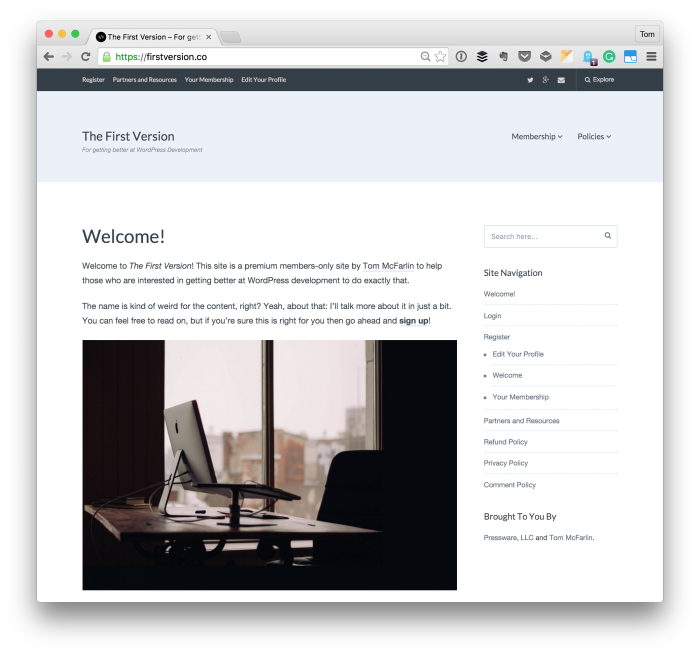 You can read a little bit about what's planned in a previous post or on the site's homepage. For those who are wondering if it's worth signing up, it all depends on where you sit regarding professionally building solutions for WordPress.
As such, I thought I'd talk a little bit about it here to distil its purpose into just a few points and help you determine if this is something for you or not.
Perhaps the best way to ask the question is:
Are you interested in learning more about professional-level WordPress solutions?
Not everyone is, and that's cool – this isn't for you. But if you are, then I hope to provide a little more insight as to what you can expect.
The First Version
The site is going to cover three specific areas of information:
A professional approach to WordPress development,
Thoughts and strategies on how to create products for WordPress and create a small business and ideas on how to turn working with WordPress into a career,
Thinking creatively about WordPress as a solution for more than just a blogging platform or a CMS.
The content will consist of blog posts, videos, and podcasts with some notable, respected people in the industry including:
Ultimately, the goal is not just to share my personal experience or anything like that (if anything, that's what I do on this site, right?), but it's to talk about tried and true practices that transcend one person's experience.
Furthermore, it's also to get experience regarding development, business, and problem-solving from others who have done the same in the industry. I want to provide as well-rounded as perspective as possible through conversations with other people.
Members also gain access to a plethora of discounted software provided by some of the best in the business including WP Migrate DB Pro, Design Palette Pro, WP Pusher, SearchWP, and more.
The Tiers of Membership
Note that membership is a one-time payment. They correspond to the following:
Bronze ($69). Access to all of the videos and blog posts.
Silver ($89). Access to everything above plus the ability to participate in comments.
Gold ($99). All of the above plus the access to the podcasts.
Platinum ($119). Access to all of the above with a complete export of the information discussed during the course including the videos and the podcasts.
You can sign up on the site. Note that I use Stripe as my primary gateway. If this doesn't work for you, no problem! Shoot me an email and we'll work something out.
Finally, since this is the pilot of the event, I'm going to be contacting the members for some feedback once everything is over. I'd love to offer this again and continue to refine it based on this feedback.
A Word About Policies
As with any meetup, event, or similar situation, there are a few policies I have in place to make sure that everyone has the most enjoyable time possible.
Be sure to check out:
They are all short, free of legalese, and should be a quick read.
Any Other Questions?
Registration ends for this particular round of participating on Wednesday but if you have any questions what-so-ever, then please shoot me an email and include The First Version in the subject line so I can respond as soon as possible.
If this sounds like your thing, I'd love to see you there!