Outside of the normal messaging applications that are available on our phones – regardless of if you're on Android or in iOS – there's no shortage of options when it comes to having yet-another-messaging-application.
And maybe that's what this particular post will be about, but out of all of the messaging apps that I've tried, I'm big fan of Telegram.
What is Telegram?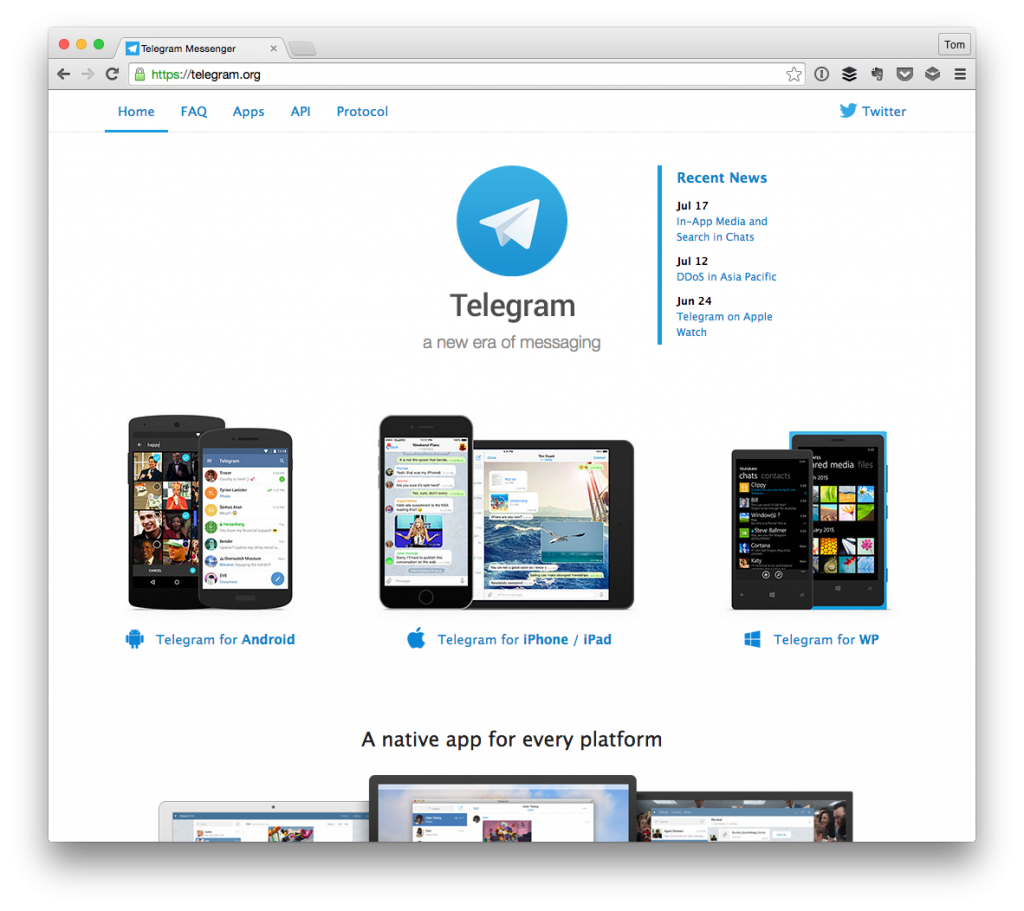 As one would expect for any type of application, the website includes a short description of what the purpose of the application is all about:
Telegram is a messaging app with a focus on speed and security, it's super fast, simple and free. You can use Telegram on all your devices at the same time — your messages sync seamlessly across any of your phones, tablets or computers.
But how does this differ from the solutions that are currently available? In some ways, it doesn't. In others, it's got some pretty unique features:
You can send documents of any type.
You can create and send self-destructing messages (think Snapchat but for any media type).
You can create your own extensions for it using its API.
They document both the protocol and the API that they use for developers.
The messages are encrypted.
There's no limits on size of the media (photos, videos, whatever) that you can send.
There's a built in GIF finder (because, I mean, it's required, right? :).
Some friends and I have been using it for several months now – some are located elsewhere in Georgia, others are located in New York. We've setup channels for various things to discuss from stupid things we find on the Internet to music, from movies to TV, and a number of other things.
Anyway, clearly I'm a big fan and I really like the synchronization that exists between the mobile app and the desktop app. It's fast and the experience is nearly one-to-one.
The team behind Telegram have done an awesome job.
For those who are interested, you can download it from your device's app store or read more about it on the site. Telegram also offers a blog that's usually updated a few times a month with information about new features and fixes they've rolled out.
But What About IRC or Slack Or…?
I know – right now, there's a lot of various chat applications and messaging applications that are being used. Some have been around for decades, others are brand new on the scene and they are making waves.
I think Telegram could be used in that way – at least, it's setup such that you can store your documents and media (what about privacy?) and it's setup so that you can create multiple channels or groups for different people to join.
Ultimately, it all comes down into how you use it.
Once you finish school and/or decide to make a big move, it can be tough to find a decent application that offers features you want that work well regardless of if you're on Windows, on iOS, on Linux, or an Android. Further, it can be hard to find an app that everyone likes.
I'm not saying Telegram is the silver bullet – it's not. But I am saying that for a group of friends that are scattered throughout and who want a certain type of experience (like the ability to reply to a certain message) and who want to have multiple channels, groups, who don't want media compressed (like what happens when you send media from iOS to Android), and so on for our different topics of conversation, Telegram has worked out extremely well.
It's not meant to be something like Twitter or Facebook. It's group chat with a few extra things added in, and it works seamless across devices and operating systems (and the GIF finder is a nice bonus ;).
But seriously, this isn't an attempt to promote or to push anyone in one direction or another for the next big app for communication.
This is me sharing what I've found to be one of the best cross-platform messaging clients for those who are looking for an easy way to have the same experience across all operating systems regardless of where you are and with what device you're on.