A little over a year ago, I launched my first membership site which I called The First Version.
The idea behind the name wasn't anything clever – it was the first time I'd tried something like this, it was the first version of the site, so the name was something that was quick and easy to register and set up.
Then, for the second iteration of the site, I called it Start Here under the idea of answering the question "where do I start with WordPress?"
Anyone who has jumped into WordPress and begun to develop (or begun to try to develop) themes, plugins, applications, or any other type of solution for others knows that it can be difficult to know where to start.
Rather than offering another closed membership site, I'm going to be publishing an eBook called Start Here which still aims to answer "where do I start with WordPress" but does so in an easier and cheaper format.
"Where Do I Start With WordPress?"
I'm currently working on the eBook but to get ready to launch it, we've set up a landing page to give a bit more information about what to expect in the book.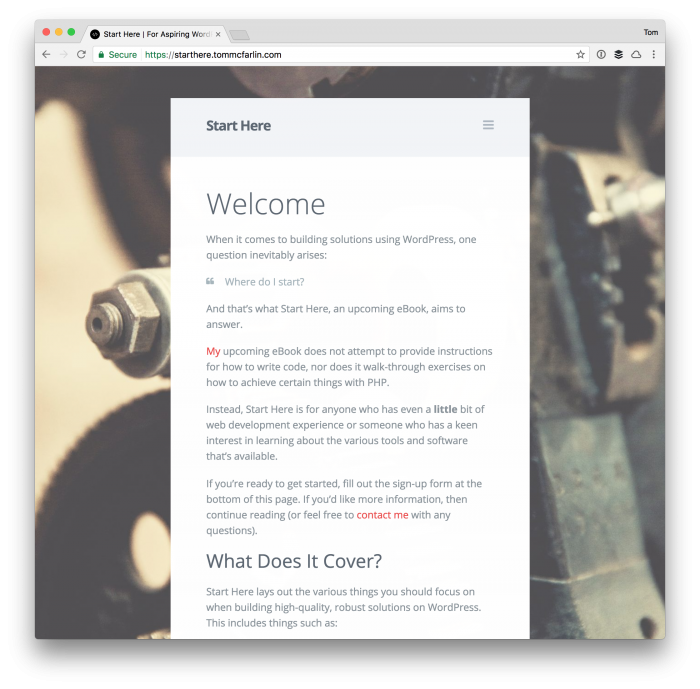 From the landing page:
Ultimately, the book provides you with practical approaches and practices as well as a suite of tools from which to choose when working on your solutions for others.
The material in the book is not intended to teach you how to write code for WordPress, nor is it an attempt to teach you PHP.
Instead, it's a way to provide you with a list of practices and tools that you can employ in your day-to-day when working with WordPress. Some of this information includes:
development environments,
source control,
build tools,
and more.
Further, it aims to organize information in such a way that you know have a place to start. And since it's in the format of an eBook, it's something you can easily refer to again-and-again (and, as the author, I'll be able to update it as new practices and tools become available).
If this sounds like something you're interested in purchasing, please sign up for the mailing list (no, I won't sell or spam your email address – jerks do that; I'm not a jerk 🙂).
I'll keep you filled in with information, pricing, notes on the progress of the book, and other information related to the two editions on which I'm working.
If you have any questions in the interim, don't hesitate to contact me.