Last week, I asked: "Should WordPress product support be in-house?" And the short version of the conclusion to which I came is simple: Yes. It should be. This still leaves a question about how to handle general WordPress support, though.
Specifically, the problem is when something goes wrong with your product, the general end user doesn't know if it was your work, the theme, WordPress, or the environment on which all of the software is running.
And if your product is the last thing the user installed, then you're likely going to be the first person contacted. So let's say you are running a theme or plugin or WordPress product shop, and your customer has a problem, but it's not related to the work you've done.
In other words, though you do (and arguably should) offer in-house product support, the problem isn't related to your product at all.
What then?
Finding WordPress Support
Don't get me wrong, one of the great things about WordPress (and part of what has helped it become so successful) is that it's free. Further, there are resources available to anyone and everyone who uses WordPress to seek support.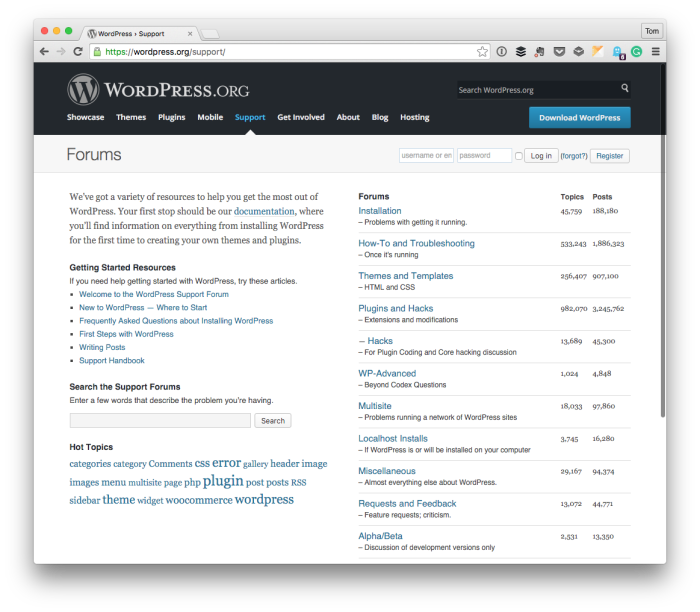 I think the WordPress Support Forums are a great place to ask for help when you're running a basic site. A wide variety of extremely helpful and respectable people (some of whom I'm glad to know) volunteer their time to answer questions, but there's a limit as to how much they can help given the context they have.
What About WordPress Product Shops?
Continuing with the whole idea of offering support from within your WordPress product shop, there has to be a point at which you draw the line.
That is to say, yes, you should be supporting your work in-house, but when the problems with your customers' experience stem from something outside of your product, you're no longer responsible for supporting them.
Except you – nor I – want to be left with leaving them hanging, do we? Is it professional to respond with something like:
Sorry, this is outside of the support we offer.
And leave them hanging? In some cases, I can see how this would be acceptable, but when given the opportunity to go just a little further and offer them an alternative rather than leaving them hanging, why opt for anything else?
In short, I do not believe this is how you end up treating customers. Instead, why not have a place to which you can refer them that specializes exactly in the areas you don't?
Enter WP Site Care
Some of you who read this blog are already likely familiar with WP Site Care, but if you aren't, then think of them as a WordPress concierge service.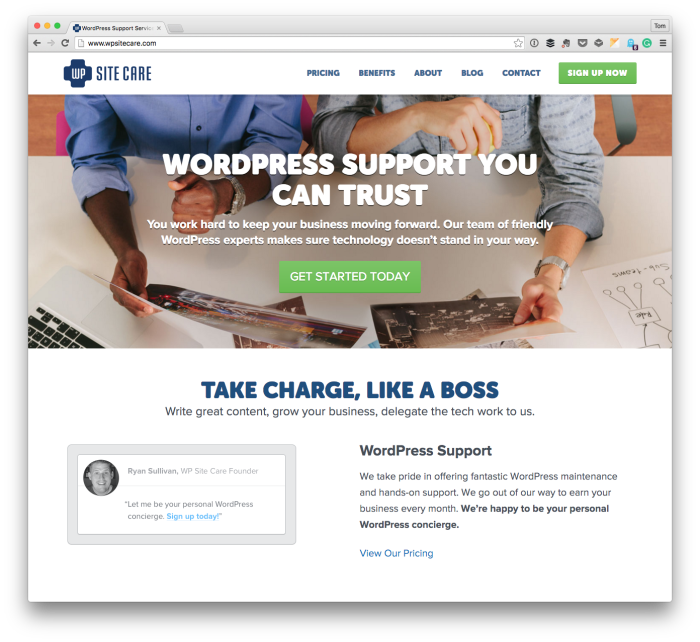 Or, in their words:
We take pride in offering fantastic WordPress maintenance and hands-on support.
The reason I bring them up is two fold:
WordPress product shops should be responsible for supporting their products, and they should do so from in-house using their support staff.
Problems exist outside of a given WordPress product, and it helps to have a premium-level service who know WordPress inside-and-out who you can trust to take care of your customers when their needs exceed your capabilities or responsibilities.
And that's exactly where WP Site Care comes into play. Generally speaking and without trying to over-embellish, "WordPress support" and "WP Site Care" are a bit synonymous. You can read all about the details of what they offer on their site, but not only do they take care of you or your customers from a level of supporting WordPress, they offer tertiary services like:
Automated Backups
Security Monitoring
Performance Optimizations
SEO Auditing
Uptime Monitoring
eCommerce Support
And more
Again, this is all in addition to core services designed to support customers via training, video tutorials, code clean up, and so on.
WordPress Support
If it's not clear by now, I do think if you're running a WordPress-based company and you need to offer support, then it should be done via in-house staff.
But if the needs of your customers exceed that of your theme, plugin, or product, then refer them to WP Site Care. This team is top-shelf at taking care of other people – including your customers – when it comes to any problems they may experience using WordPress.