When speaking of web analytics and privacy, its not something I typically think of going hand-in-hand.
I mean, conventional wisdom may argue that we want to know as much as possible about those visiting our sites so we can ensure we're writing content properly, building features out properly, and targeting all of the necessary metrics to make sure our site is successful.
And there's truth to that, sure. But there's still a level of privacy around what the user is sharing (and perhaps how it's managed, who stores it, for how long, etc.).
Fathom Analytics
A year ago, I migrated this site from Google Analytics to Fathom Analytics by Paul Jarvis and team and have been really impressed with it.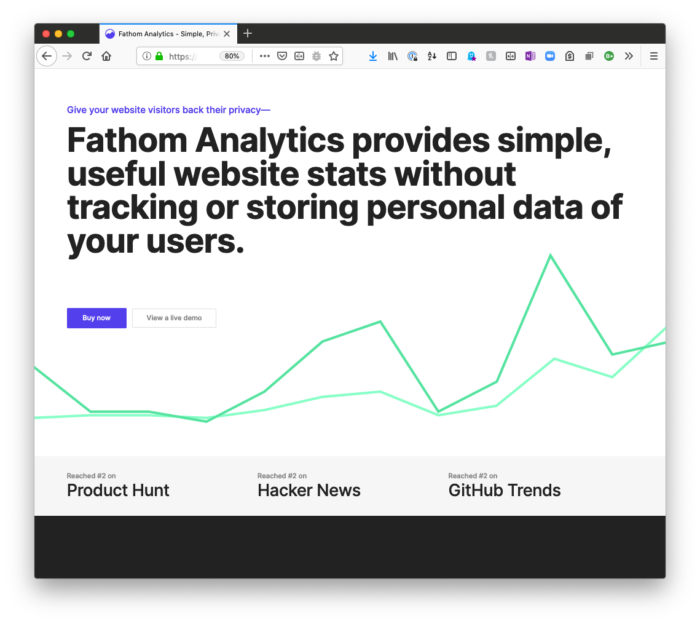 Fathom collects trends and insights, not personal details about specific website visitors.
Ultimately, it provides all of the information that I'd personally like to see in an analytics solution and nothing more.
Current number of active visitors
Unique visitors
Content views
Average time on site
Bounce Rate
Top content
Top traffic (along with their sources, the views, and the uniques)
Then you can break down all of this via hour, day, week, month, quarter, year, or all time. And it does all of this in a really easy to understand dashboard.
And if you're skeptical, here's their privacy policy.
But I Have Nothing To Hide
As a side note, Paul's written an excellent piece on the the argument of "I have nothing to hide" as it relates to privacy that I recommend reading, too.
Is It For Everyone?
Different businesses and individuals have different needs in terms of analytics; however, the degree to which information is captured, stored, and owned should be a key consideration whenever you're using an analytics application.
So I don't know what works best for you but if you're looking for a system that's more privacy focused than most but provides rich information about your visitors, I highly recommend Fathom Analytics.