About three months ago, I published about on teasing Pressware.
Straight from the initial post itself:
But as years have passed, my focus has shifted, and I've begun to target specific things – namely WordPress and its tangential topics – I thought it fitting to label the business in that direction. Thus, The Pressware Company, or Pressware, for short.
And as of today, I'm proud to finally be releasing the landing page and the official launch of the brand.
Welcome, Pressware!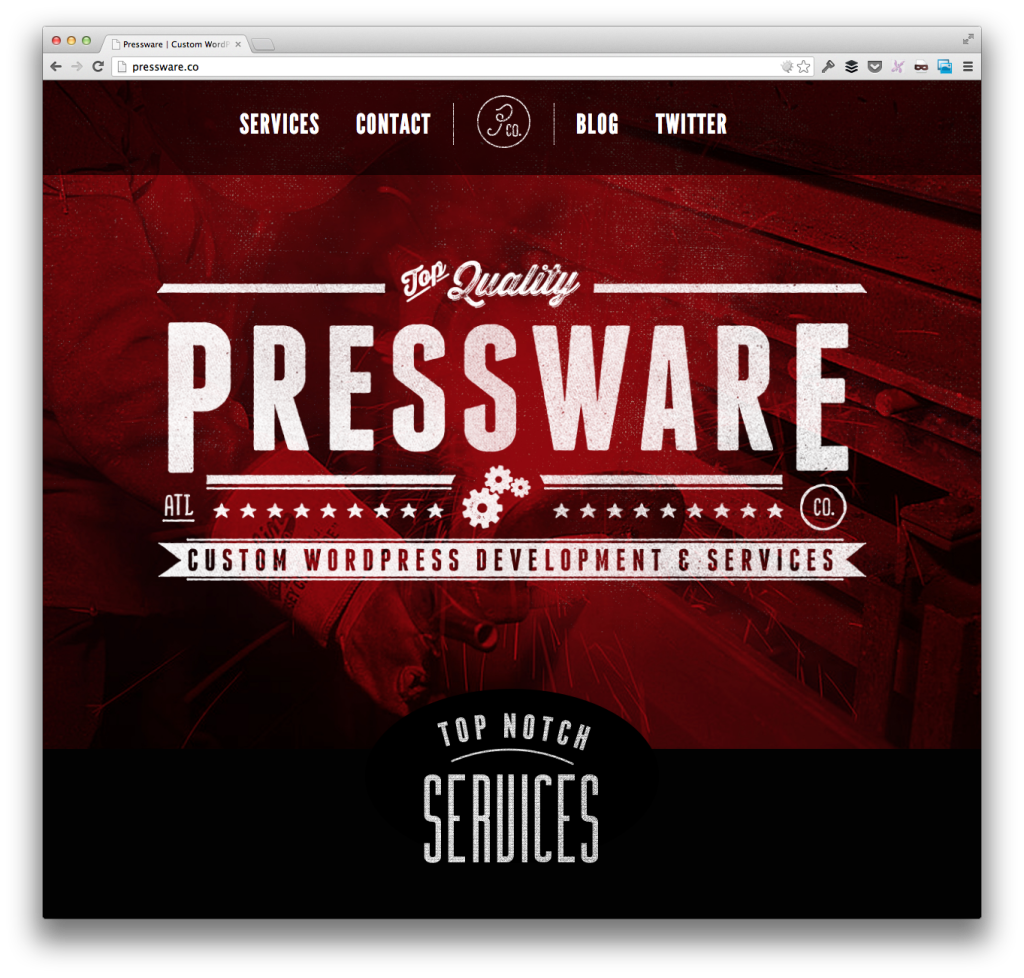 You can visit the site (and I naturally urge you to do so ;) and read more in-depth about everything that's offered, here's the gist of what you can expect moving forward:
Plugins. I've developer a number of plugins both for fun and profit and continue to plan to move forward with doing so now more than ever.
Themes. I've built a number of themes – some for commission, some for other ventures. Once two outstanding jobs wrap up, I'm planning to begin releasing a few themes under the Pressware brand, as well.
Applications. I've long been an advocate for building web applications using WordPress, and, up to this point, have done so primarily for commission. I've been slowly working on a very simple WordPress-based web application that's still very early in development that I hope to release this year.
Code Reviews. As the year has progressed, I've done a number of code reviews for others. I'm looking to amp this up even more by offering it as a part of my full time gig.
Consulting. In addition to code reviews, I've performed site audits, RFP evaluations, recommendations for theme and plugin architecture, and more. This is yet another aspect of the company that I'm looking to increase.
Other Goods? Everyone loves t-shirts, mugs, stickers, and all that other swag. Though I currently have no mugs, stickers, etc., I've my first run of t-shirts coming in November. It's purely a trial run; however, for those that are interested, this is a heads up that there is a very limited quantity. Naturally, I'll have more information once they're in stock.
To say the least, I'm really excited to finally have the brand launched and to continue doing the work that I'm doing, as well as partnering with others of you who are looking for one or more of the above services.
Props To Less Made
Additionally, I want to give a special thanks to Jared Erickson of Less Made for helping me to pull all of the concepts together. I knew the direction I wanted to go for the look, feel, and style, and he executed on it perfectly.
For those of you who are looking for stellar design work, I can't recommend Jared's company enough.
More Coming This Week!
And finally, there will be some additional details about Pressware that I'm looking to cover later this week in future posts, but, until then, I wanted to officially announce the brand, the new website, and the things I'm planning to offer.