For over a year, I've been running a series of posts at the end of each week that's serves as a round up of some of the my favorite resources from the past week. Each post typically includes articles, utilities, libraries, podcasts, etc. that I've found useful in my day-to-day work.
The series of posts tends to be one of the more visited areas of the site but has little engagement. I considered ending it, but it appears that many of you enjoy reading it. So I considered spinning it off into a newsletter where it can be a little more in-depth, a little more complete, and can offer a little bit more than a typical blog post and receive some positive feedback.
The first issue will be dropping this Friday. Here's everything you need to know…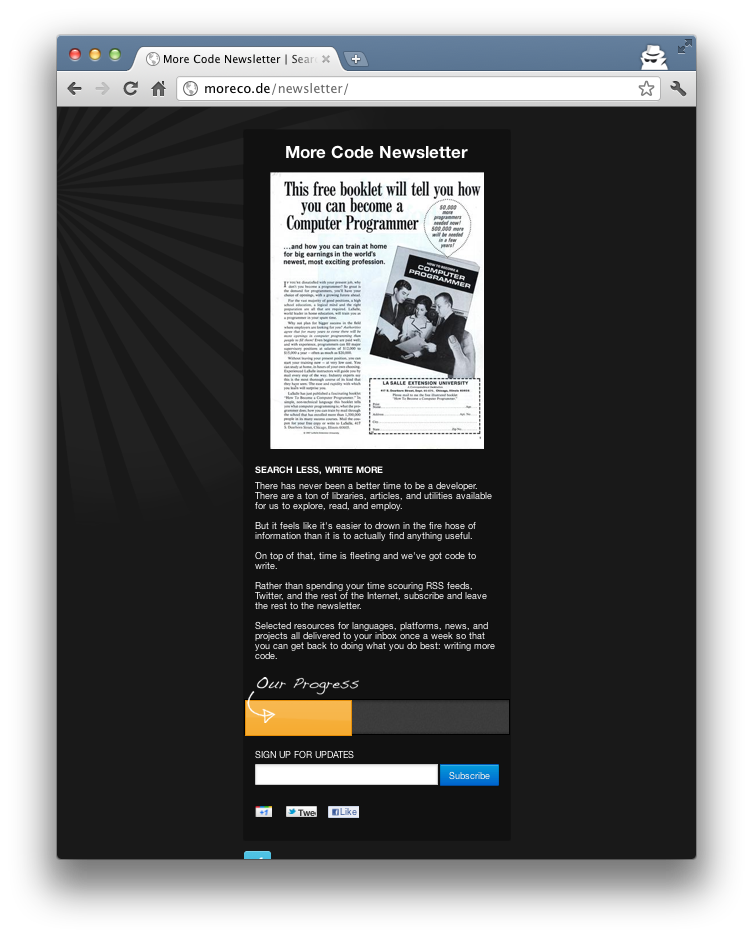 Administrative Stuff (Blah, Blah, Blah…)
I'll be highlighting exactly what you can expect from the newsletter later in the post, but first, a few specifics…
First, you can register for the newsletter by heading over to this page. Simply provide your email address and I'll take it from there. Note that you'll be able to opt out at any time.
Secondly, this is largely an experiment. I'm committing to running this for the first quarter of this year after which I'll evaluate an determine if it's worth the time to continue to doing it. Note that this will be largely contingent on feedback from you guys! If you like, dislike, want more, want less, and so on, let me know!
Third, I'd appreciate any form of link love you can give the newsletter. Be it a Tweet, a Facebook mention, an email, a blog post, a +1, whatever. Anything that will help get the word out. All of those sharers are also available on the newsletter homepage.
Lastly, I'll still be running a few resources on this site on Fridays. Think of those posts as a teaser for the newsletter on which I'll almost be urging readers to subscribe as their inbox is where more of the goods will be delivered.
What To Expect
As mentioned above, the newsletter is going to be more in-depth than the weekly round-up of links that I've been posting. Specifically, my overall vision and goal for the newsletter is as follows:
It's time consuming to pour over Twitter, Google+, and our various RSS feeds to find useful stuff that keeps us sharp and makes our jobs easier. The Newsletter aims to provide filtered, high quality resources for you regardless of your level of experience.
Simple, right?
In addition to the standard round up, I have a few long term plans for the newsletter that will hopefully make it more valuable for many of you. For example, as the newsletter takes off, I'd love to callout projects the subscribers are working on and promote them each week.
So, again, sign up here and be sure to give it some link love. I'll have the first issue out on Friday.