When it comes to maintaining this site, one of the things that I try to do is stay "on topic." Looking back through the posts, you see that there are actually very few things that I discuss that aren't on the topic of development in some capacity.
For what it's worth, I think having extreme focus on a blog is important. Spreading out too wide dilutes content and leaves you with a mixed-to-no audience.
And that's why I hesitate sharing some of the stuff like this.
But you know, I've always enjoyed seeing what some of my fellow developers are writing and sharing outside of their typical stuff, so I always assume that a post like that now and again doesn't hurt.
So as I've continued to explore Medium and what they're doing with the service, I wrote a post earlier this week all about music and millennials.
All About The Music and Millennials
Outside of our 9-to-5, every one has their set of interests and hobbies. Sure – some of us have tried to make a career out of some of those hobbies, but no one's limited to only a single interest, right?
For me, I've been into music almost my entire life – this covers listening to music from way-back-when up until now, exploring different instruments, etc., etc. – and it's something that I continue to pursue now.
Truth be told, if everyone was forced to have a backup plan or a Plan B for what they are doing today, mine would be to pursue a professional career in music (and I'm curious as to what yours would be!).
The Album Is Dead, Long Live The Album!
Anyway, one of the things that I've always enjoyed is the experience of listening to an album from beginning to end. But in the past few years, I feel as if that's fading away with my generation.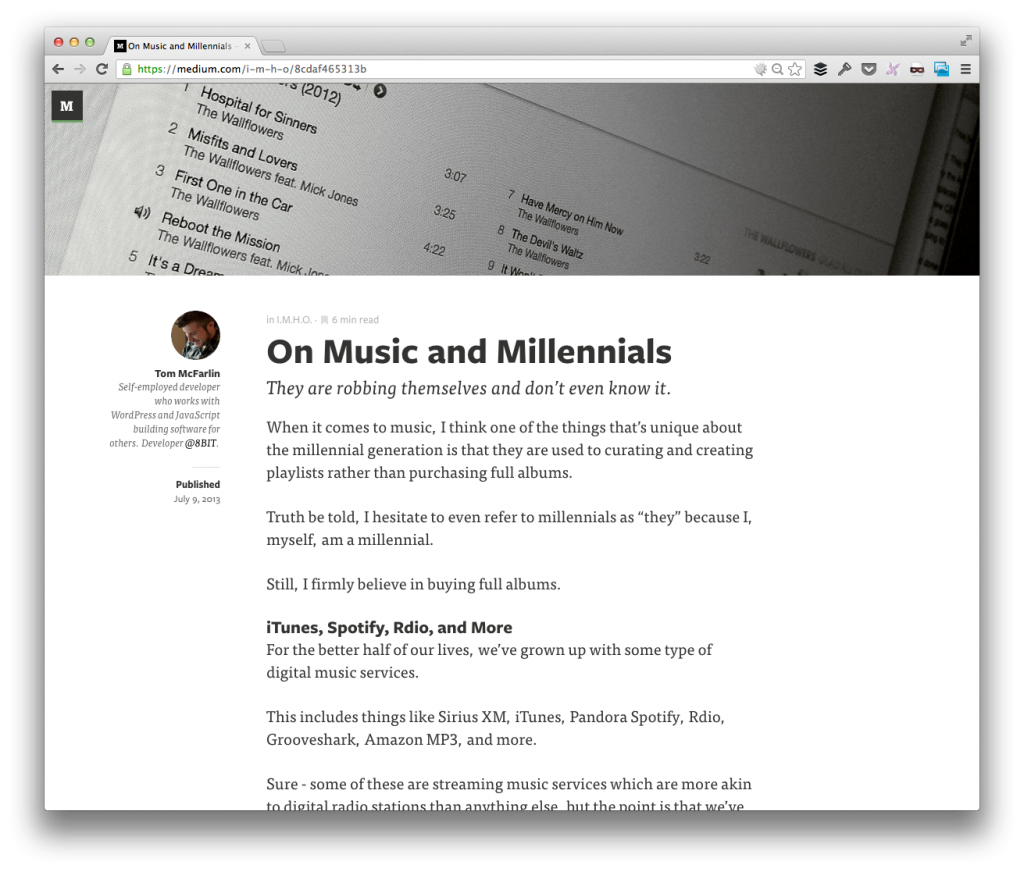 So in my latest post on Medium, I wrote about exactly that.
In short, I hit on the following points:
My generation has grown up with some type of digital music service. Multiple ones, even.
This has adversely affected how we listen to music
The shift from listening to albums to creating and curating playlists
How I think I'm an old man :)
Straight from the post:
I believe that music has one of the largest ROI's of anything that we can purchase. It's exceptionally cheap to purchase something that we can utilize for decades on end.

There are very few things in this life that allow us to do that.

Though I may fall in the millennial generation, I do feel like an old man even writing all of this.
Off Topic, But Interested
Yes, this is far outside the scope of what I generally post here, but, as I said, I've always enjoyed the occasional read of what my peers are up to, so there's that.
So if you're interested in music, even in the slightest, check it out and comment on the post.
And even if you're not, I'm still curious as to what your Plan B would be if your day job didn't work out and you were forced to make a profession out of another interest.
Seriously, share it in the comments.