One of the most interested aspects of working with people all over the world – aside from the fact that, y'know, they're all over the world – is coordinating time zones with people for phone calls.
Sure, it's easy to coordinate one-on-one calls with people when it's only two timezones you're working with, but when it comes to adding three or more people to a call, things get more interesting.
Case in point: I've been in a number of calls where I'm chatting with people in the UK and in Australia all at the same time. That's a pretty big shift in time zones, right? We're about as spread out as you can get when it comes to setting up timezones.
And yeah, it's easy to go about coordinating timezones through the use of various web sites that are out there, but there's one app that I've found that I really like not only for that reason, but also for what it offers as it relates to other various information about the planet (yes, planet).
Check out Living Earth.
Living Earth
Living Earth is an OS X and an iOS application (that syncs it's data with iCloud) that:
A completely new perspective on time and weather. Living Earth presents a stunning live 3D simulation of our planet with weather, forecasts and world clock for millions of cities around the world. View global weather dynamics on our planet with real time weather maps and tropical cyclone tracking.
I know – it sounds kinda funny, right? I mean, a global weather and timezone app? I'm not necessarily a weather geek (like some people I know), but I still find it interesting to see what's going on where across the country and the world as it relates to that kind of stuff.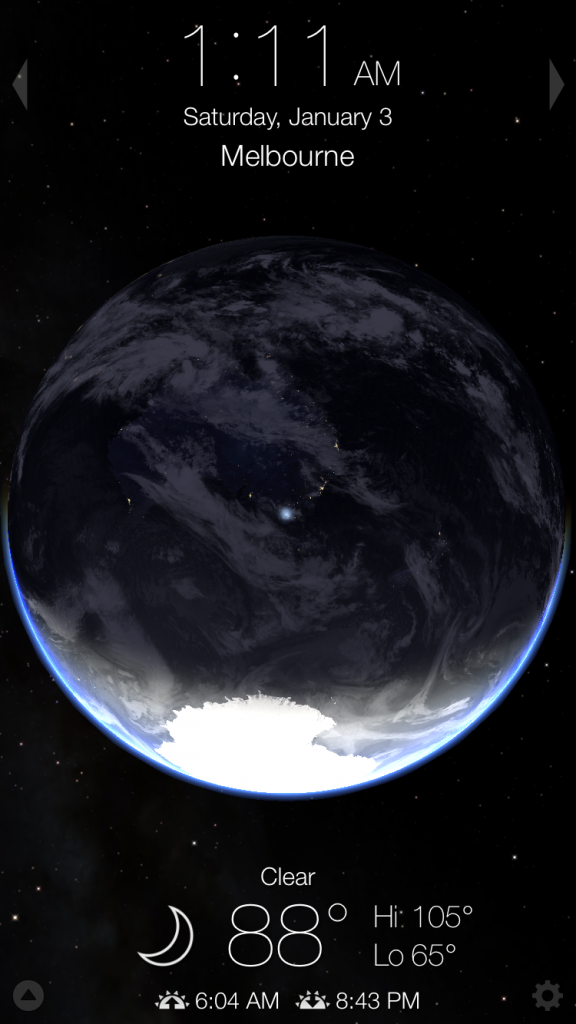 Originally, the app was available only on iOS, but when they also made it available for the Mac, it was an instant purchase. It's just as sleek as it's iOS counterpart and sits quietly in the menu bar displaying an icon representing your current locations weather and outside temperature.
Anyway, so this is basically me saying I dig on the app. But why? Here's some of my favorite features (all of which are available across platform):
The ability to store and see time for various locations around the globe
The ability to scan the globe to see what various parts of the planet are experiencing (be it day light, darkness, various weather patterns, etc.)
The forecast (no more sliding over to see widgets on OS X)
…and more
It's basic, but we all claim to love simplicity, right?
Anyway, I also dig the ability for the iOS app to lock to prevent the screen from locking so that you can set this as your current homescreen or as a secondary display on, say, your iPad.
So if you're looking for a timezone and weather app for either your iOS device of your iPad, check out Living Earth. It's a solid app and it's the cost, too.
That said, if you've got other similar apps, I'm curious to hear what you use to feel free to link 'em up in the comments.