A couple of weeks ago, I shared a post in which I offered a class for helping you guys improve your WordPress development skills. Based on the feedback, emails, and tweets I've received, I've decided to move forward with the course.
I'm really excited about it, of course there are a few details that need to be worked out first.
But in the mean time, I'm looking to build up a mailing list of those who are interested so we can more easily communicate via mailing lists and email rather than blog comments and tweets :).
Sign Up To Improve Your WordPress Development Skills
To that end, I'm officially setting up a mailing list that will be used to stay in contact with those of you who are planning to attend the course.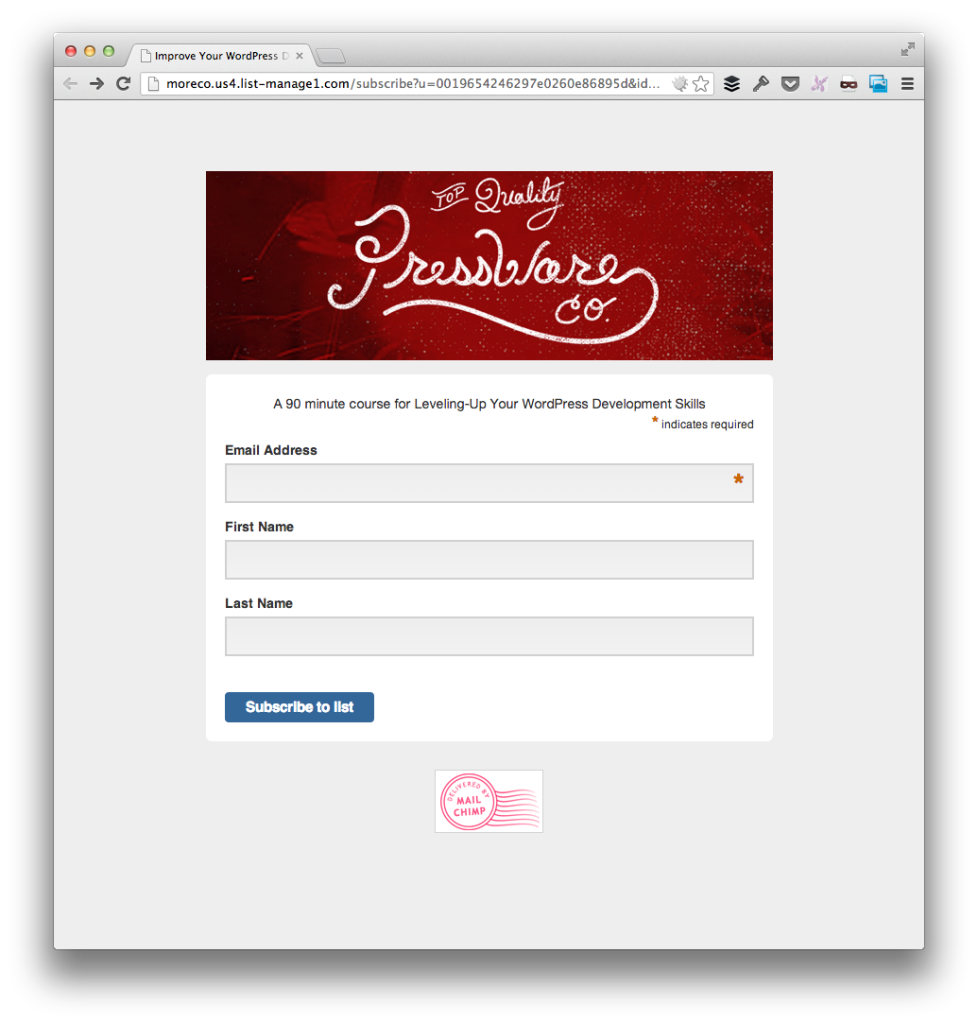 You can officially sign up for the course using this form.
One of the most common questions that I've received – and rightly so – revolves around content and pricing. For now, here are the details that I can provide, though they are subject to change as we get closer to the course date.
What Will Be Covered
Right now, I'm tentatively planning on covering the following topics, though I may trim this up a bit in order to allow greater discussion at the end of the course:
The WordPress Codex – What It Is, Why It Matters, and How To Use It.
The WordPress APIs. What They Are, Why Do They Matter, Why (and How) Should I Learn Them?
The WordPress Coding Standards. What They Are and Why You Need To Use Them
Finding Your Niche. Design, Theme Development, Plugin Development, Applications, and More. What's right for you and how do you identify it?
Honestly, if there anything that's going to be removed from the course, it will be #4 – Finding Your Niche.
Pricing Tiers
I'm still working on pricing and will definitely be in touch with those who have signed up about this, but right now, here's what I'm tentatively planning to include:
Early Bird Pricing for one week
Standard Pricing after the initial week has passed
Additional pricing for access to a discussion forum for two weeks following the course where I, and all those who have paid, will have access to the forum for enhance discussion.
When Will This Happen?
Finally, I don't have a date set yet though I'm looking at setting something up for the end of August.
Again, all of this will be communicated in time with those who have signed up for the mailing list as I see this is a team effort versus me simply planning something and hoping you guys show up –  I want it to be beneficial for everyone so we'll work together to figure something out that works for everyone.
Finally, if you've contacted me previous, then you've already been subscribed to the list. If you haven't, now's the time!