For the past several years, I've contributed a number of articles and premium tutorials to Envato specifically around WordPress.
The content has ranged from topics such as Strategies For Supporting WordPress Plugins up through my current series on Using WordPress For Web Application Development.
To say that I enjoy contributing code and content to WordPress is an understatement.
To that end, I'm proud to announce that I – or, more specifically, Pressware – is officially partnering with Envato and WPTuts+ in 2014.
Envato and WordPress
Specifically, as of this month, I've begun to serve as editor of Wptuts+.
This means that in addition to continuing content, I'll also be working with those of you who are also interested in contributing content to the site from this point forward.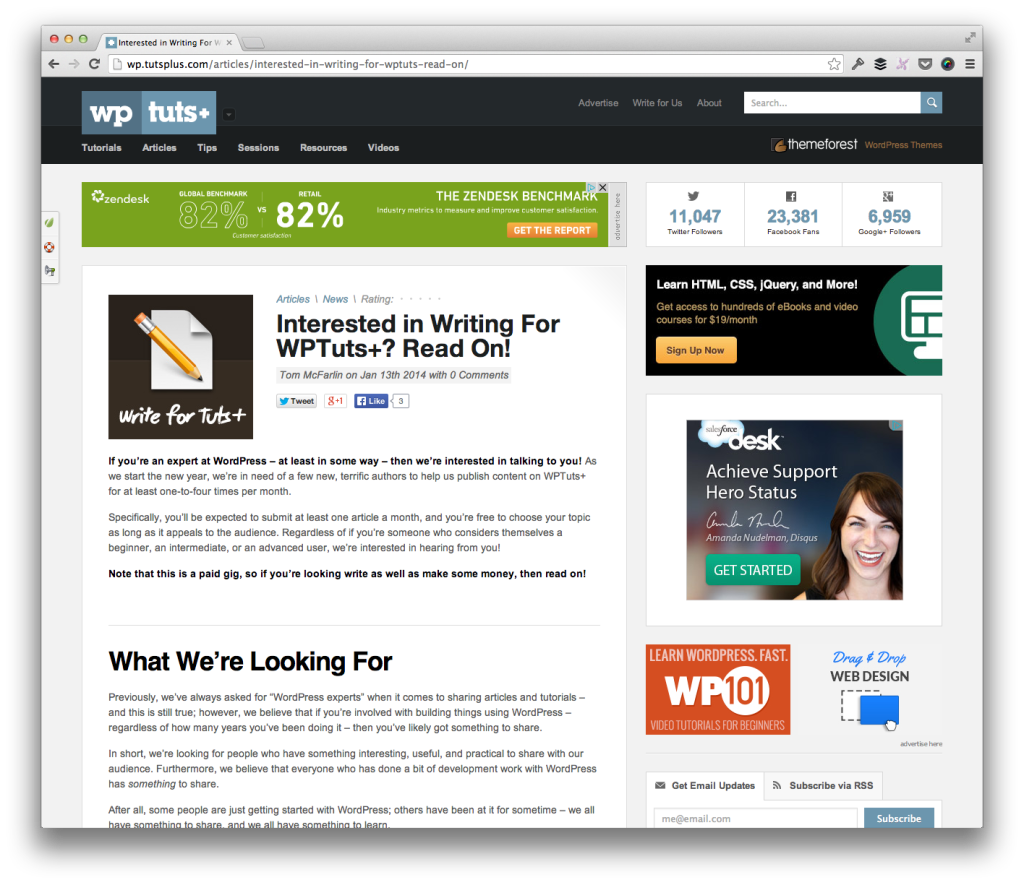 So to start out the new year, I'm specifically looking for some additional authors – regardless of your level of experience with WordPress – to add to our team.
Who's Able To Write?
Previously, Wptuts+ has specifically asked for WordPress experts to sign up to contribute content. And we still are!
However, because the utility of WordPress is so wide, because so many of us are building different types of things with WordPress, and because our experience ranges anywhere from beginner or intermediate in some areas to advanced in other areas, we believe that anyone who has been working with WordPress has something to teach, and has something to learn.
So if you fall into that category – which I'm sure you do – and are looking to make some extra cash – which, who doesn't? – then I urge you to considering applying to write for Wptuts+.
What About Pressware?
Pressware is still very much a service-oriented company that is also beginning to turn its focus to products, as well.
To that end, I'm continuing to work on building custom solutions for others, just as much as before; however, at some point this year, I'll likely need to bring on some help in order to help with the project workload. But more on that later.
For now, I'm really excited about the work going on at Envato, and would love to see some of you guys submit proposals to join the writing team – you know I'm all for sharing WordPress-related content, and I'm looking forward to work with those of you who are interested!