When it comes to privacy and web browsing, I've talked Firefox in a previous post. In the same post, I also stated:
I'm actually a fan of Safari for casually browsing the web. That browser coupled with 1Blocker makes it a solid alternative.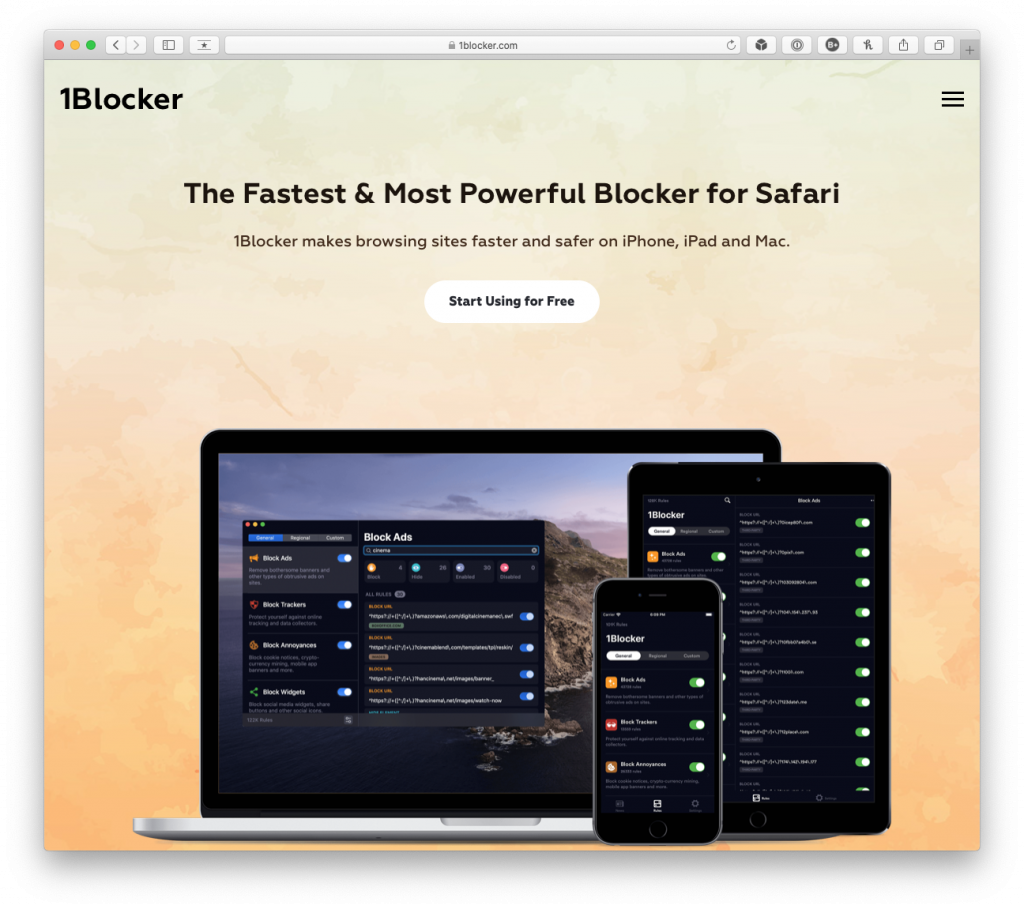 As far as Firefox is concerned, I still think it's a fantastic browser but if you're looking for a seamless experience between macOS and iOS 1Blocker alternative solution that I've been using for a few weeks.
The motivation for privacy (which I've previously shared) still stands but it may not be the same for you. I'm approaching it with the following attitude:
what I'm comfortable with using may not be the same for you (and vice versa),
and privacy and security are not terms that I use interchangeably.
That said, the rationale for using software like this alongside a browser that's bundled with an operating system (remember when that was a big deal?) rather than a third-party browser is different.
Private Web Browsing with 1Blocker
Recall from other articles in this series that the definition of privacy off of which I'm working is this:
Privacy grants us freedom from the public; concealed.
So this can be taken to different lengths depending how how private you want to be, but you get it. With that said, here's why I've been a fan of using this particular browser:
it's fast,
it tightly integrates with the operating system such that if I receive a 2FA code in Messages, Safari picks it up,
I can pick up where I left off using my phone or vice versa,
the built-in reading list saves the need for third-party software,
most of the extensions that I consider must-haves are available
But unlike Firefox, it doesn't have nearly as much privacy-focused tools built into the browser. And there's where 1Blocker comes in handy (and it's available on both macOS, iOS, and iPadOS).
The list of rules that it provides is far too long (and needless) to list here but it offers:
support to block over 43,000 advertisements,
the ability to block 13,000 advertisements that can be blocked,
blocks, with great ability, browser fingerprinting
is frequently updated,
offers the ability to add custom rules,
blocks third-party commenting systems,
is written using native languages (so it's not trans-piled to run cross-platform which may matter to some)
As a software developer, Safari's development tools are not as nice as Firefox or Chrome's, for that matter. The browser is fast and its tight integration with the operating systems (that is, macOS and iOS/iPadOS is nice) so when I want to use the browser is a non-development context, offers a lot of convenience.
What About Development?
I'm not one of those developers who works on code anywhere except my actual machine so I'm not particularly concerned with having access to development tools anywhere else.
So if you're looking for a way to maintain the integration of Safari with macOS and its mobile counterparts, maintain privacy, block a lot of the stuff that drags so many pages down, and is great for developers and non-developers alike, I definitely recommend 1Blocker.