WordPress image optimization is one of those things that's useful for anyone who blogs regularly (be it weekly, bi-weekly, daily, or however many times).
Including images in your posts is usually considered a good thing, but as you start to do so over time, you're going to end up utilizing storage space on your server. On top of that, sometimes images include metadata that isn't always necessary for images posted on a site.
For example, the time, date, and location of a photo isn't always necessary to keep when sharing an image on the web. Sometimes, sure, but all the time? Doubtful.
Anyway, there are a number of great plugins that are available that compress images, remove metadata, and generally help with all of this. One of the one's that I've been using and that I've grown to really like is Optimus.
WordPress Image Optimization
Optimus is a WordPress image optimization plugin that's available in the WordPress Plugin Repository.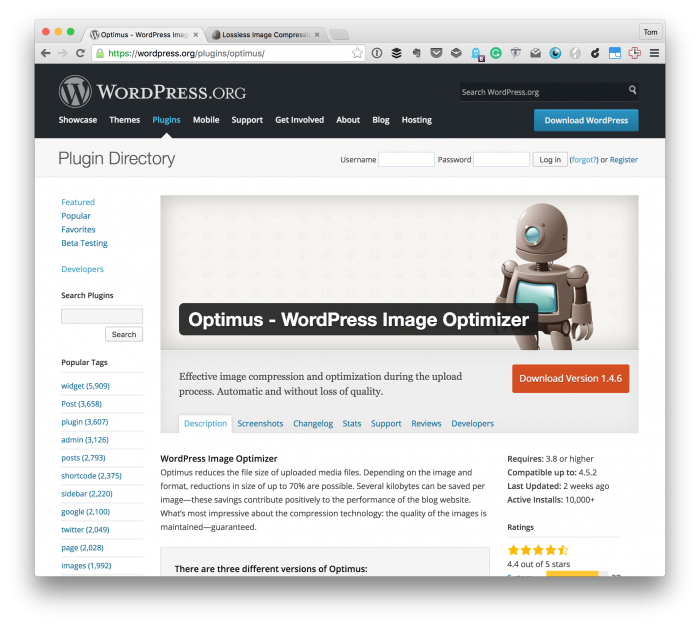 The short description of the plugin is as follows:
Optimus reduces the file size of uploaded media files. Depending on the image and format, reductions in size of up to 70% are possible. Several kilobytes can be saved per image—these savings contribute positively to the performance of the blog website.
Furthermore, the repository page goes on to claim:
What's most impressive about the compression technology: the quality of the images is maintained—guaranteed.
And though I've not combed through each image with the proverbial fine-toothed comb nor gone to deeply examine the end result, I do know the filesize is smaller and it appears to be a great lossless compression algorithm.
Versions
There are a few versions of the plugin.
Free works with a maximum of 100kb.
HQ works with additional functionality ideal for personal projects.
HQ Pro is designed for larger projects and agencies with customers.
You can see a breakdown for all of this and the features on the product page.
Bugs I've Experienced
Over the last month, I've been using it on a small, though an image intensive, blog. After using it for sometime on another blog and then using it on this blog, I've been really happy with the results.
Before talking about how it's worked out for me, it's worth mentioning that when I first tried using the Pro version, I was having problems with the software actually working on larger images.
These were either large images that I'd taken or large images from other sites (freely licensed of course). Part of this is that some of the images I was using were simply large, the other part of it that I was trying to put a plugin through it's paces.
So when I kept running into an error when uploading images, I contacted support. I received a response in roughly a day with a fix shortly thereafter.
Since then, it's been good.
Features
The plugin offers an easy-to-use settings page.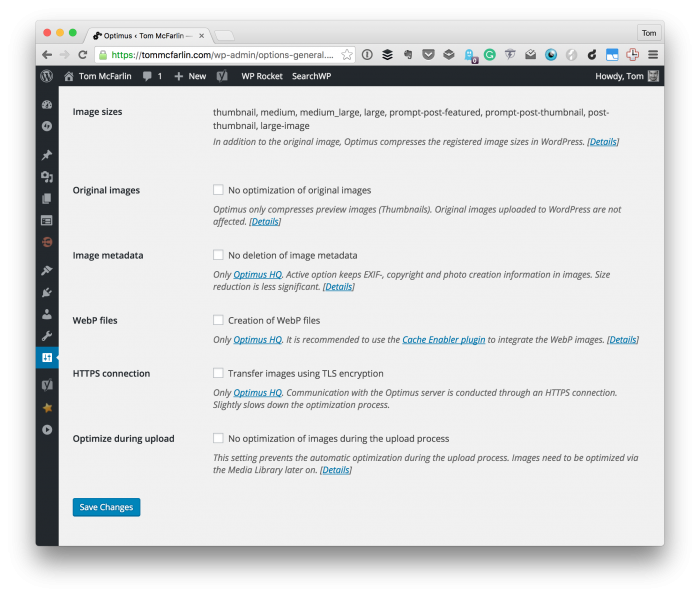 The page provides the following options:
setting which image sizes to optimize,
whether or not to optimize the original images,
whether or not to remove meta data,
toggling if WebP files should be created (which works well with the cache enabler plugin),
whether or not images should be transferred via https,
setting whether or not optimization should occur during upload or not.
Finally, the plugin also provides a feature to optimize all existing images (or a bulk image optimizer).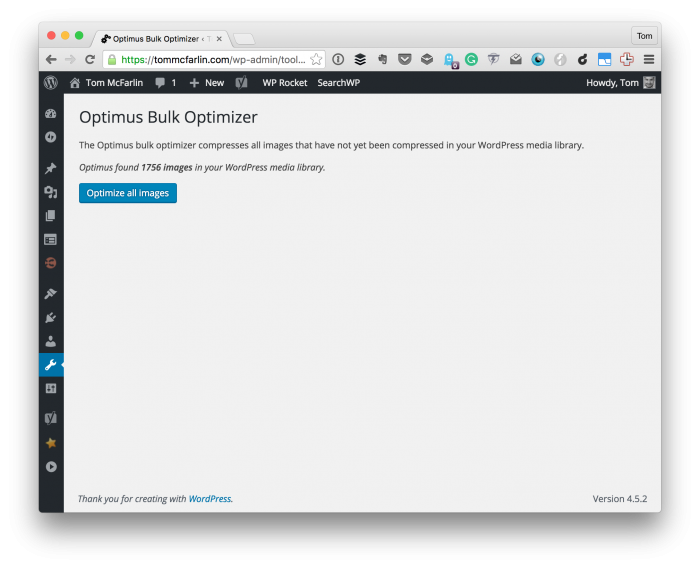 So even if you just start using the plugin today, you'll be able to update all of your images retroactively.
I'm a Fan
There's a lot of options when it comes to working with image optimization in WordPress (which I consider a good thing). Aside from the features listed above, one thing that really won me over for this plugin was the customer support.
Being able to shoot and email, get a quick response, and have an update pushed out in a reasonable amount of time (which I actually consider to be a week or two for some companies, for whatever that's worth) makes it all the more useful.
So if you're a blogger who uses images of any type on a frequent basis and you're looking for an inexpensive solution, then I recommend Optimus.