Periodically, I'll get emails or comments asking about the various tools that I use in my workflow. You'll rarely hear me saying that I think any given developer should be using any given piece of software.
Instead, I think that out of all the tools that we have from which to choose, we're naturally going to like some rather than others – there's not always going to be a general consensus. Because of that, I'm more likely to share what I like rather than what I suggest.
Since blogging is just as much for the readers as it is for the author, I thought I'd take some time to share what tools I use on a daily basis. Consider this a comprehensive list of tools in a WordPress Developer Toolbox.
MacBook Air
My primary machine is a Mid-2012 13″ MacBook Air. For the most part, this machine travels with me anywhere that I'll be working. When I'm at home, it's connected a 20″ external monitor, an external Apple wireless keyboard, and an external trackpad.
When it comes to my devices – this machine included – I like to keep nothing more than the tools that I need installed, so I've only got a few applications installed all of which help me handle my day-to-day tasks.
Web Server and Database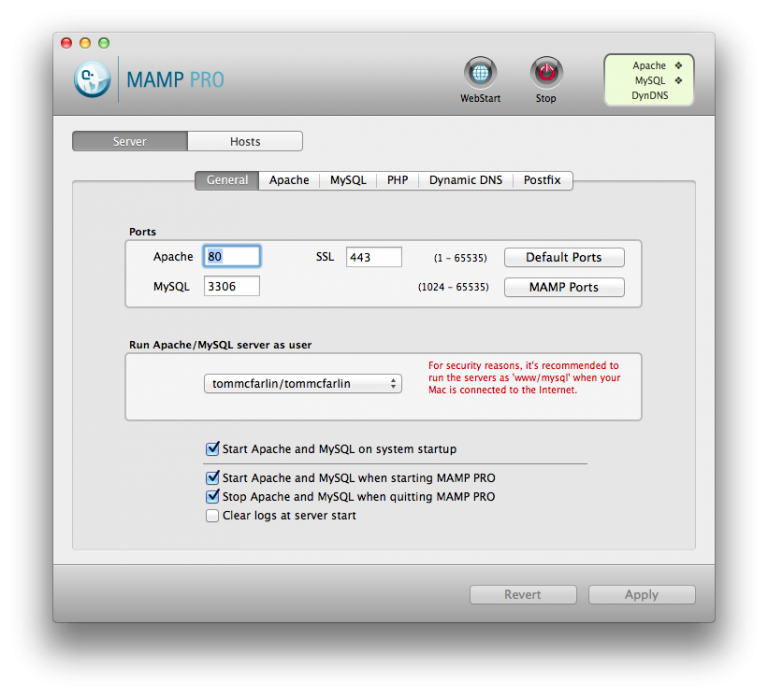 MAMP Pro is my favorite application for setting up and managing Apache, PHP, and MySQL. The Pro version is worth the cost as it pays for itself in the features that it offers.
It's ability to manage dynamic DNS, various hostnames, and postfix makes working with a variety of projects much easier and making sure the development, staging, and production environments are as similar as possible.
IDE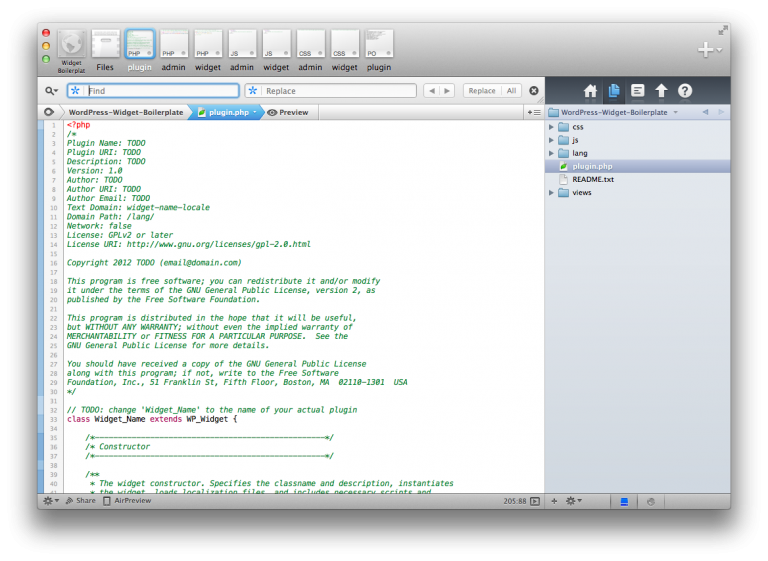 For several years, I worked primarily in .NET and Visual Studio is arguably the most powerful IDE I've ever used. Like any piece of software, it has its shortcomings, but I've never used any other IDE that I liked as much.
When it comes to Mac and web application development, Coda 2 is my IDE of choice (and the latest version is leaps and bounds better than the first version). On top of that, I usually use the built in FTP client and database frontend so everything is managed from within a single window.
The weakest point, by far, is lack of a built-in debugger. To meet that need, I'm using MacGDBp until I can land on another all IDE that I like (or until Coda introduces it).
FTP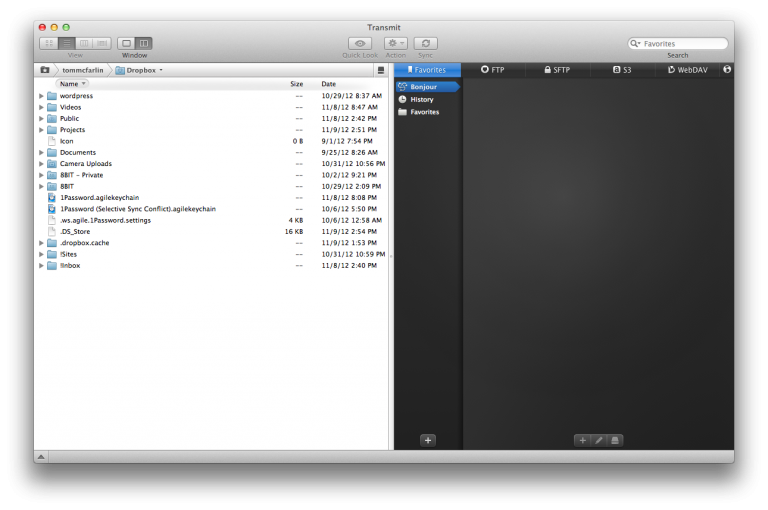 Although I try to stay within Coda 2 as much as possible, there are still times that its FTP client is limiting. In those cases, I opt to use Transmit (which is also by the same developers as Coda 2).
Database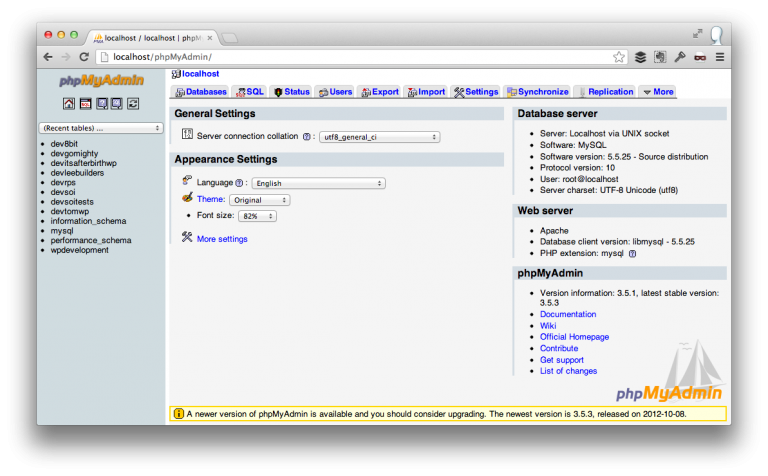 When it comes to managing my databases, I've become fonder of Coda 2's MySQL frontend – at least for local development. The ability to see the schema, the content, and execute queries within the context of its simplified interface makes it really easy to manipulate data during development.
Though it's possible to connect Coda 2 to remote databases via SSH, some web hosts limit that ability. In that case, I'll use Sequel Pro. It's got a really easy IDE, it's fast, and it connects to database servers over a standard connection, a socket, or via SSH.
CodeKit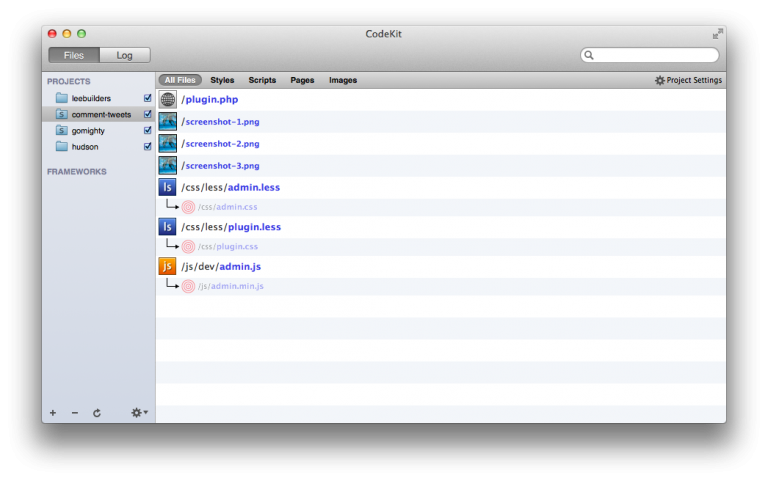 Though I've already discussed CodeKit in a previous post, it's become a standard part of my workflow and I generally use it to manage the assets of all of my current projects.
I'm now primarily building things using Sass, but am still comfortable with LESS. I use both JSLint and JSHint depending on the project. If I'm working on something for myself, a product, or for a client, I'll use JSLint; however, if I am working on WordPress core, I use JSHint.
Source Control
Despite the fact that it appears most developers are using GitHub these days, there are still plenty of options for version control.
Cornerstone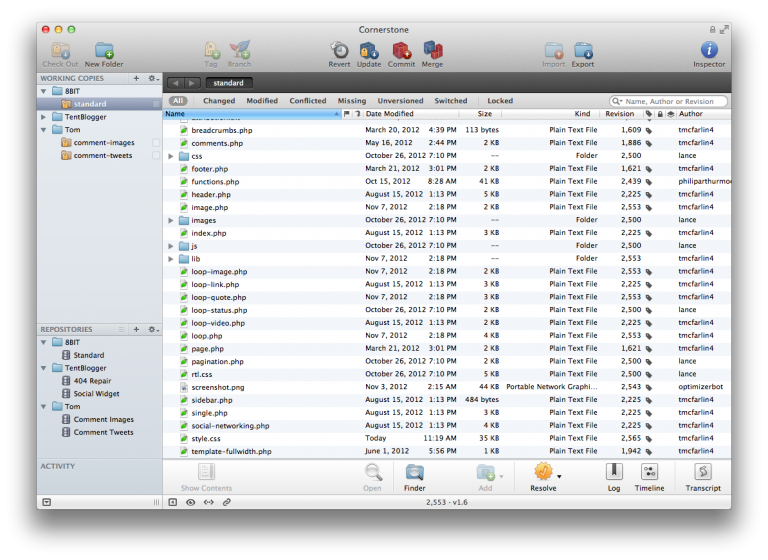 Because the majority of the work that I do is on WordPress, I use both Subversion and Git. Since the WordPress Plugin Repository and the WordPress Trunk use Subversion, it's necessary to have a Subversion app – Cornerstone is my client of choice.
Tower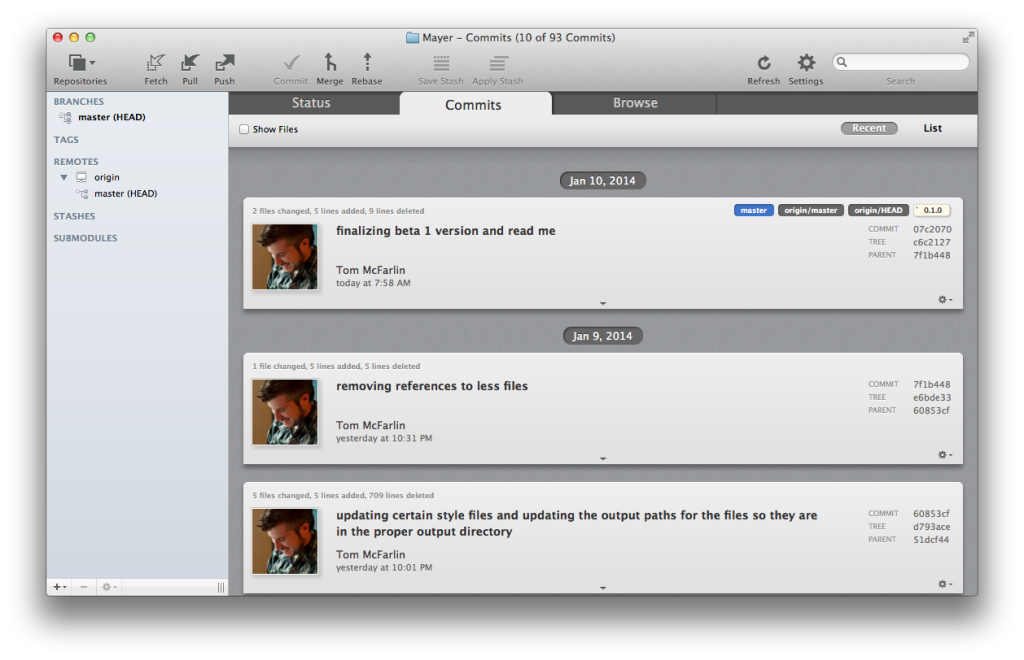 For personal projects and client work, I use GitHub. Although I think that GitHub For Mac is a decent application, I'm not a huge fan of it. Instead, I use Tower exclusively for my GitHub-based version control.
Photo Editing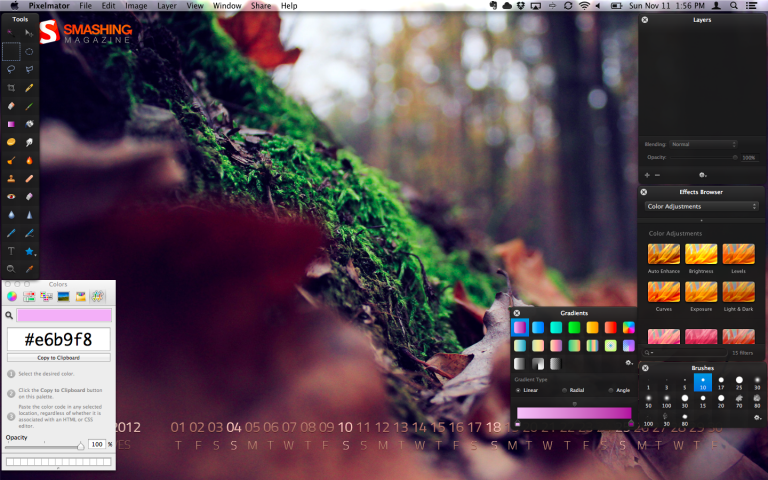 Though I know most developers and users prefer Photoshop, I've never needed everything that it offered. As such, I use Pixelmator.
Honestly, it still has more features that I use, but it's more my style. I've been using it since moving to Mac and have yet to need to upgrade to something more powerful.
Browsers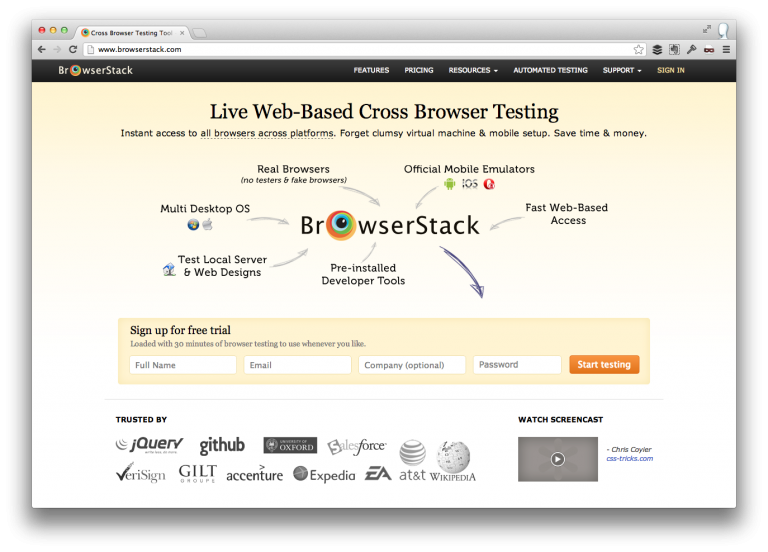 Perhaps the most frustrating parts of dealing with building things for the web is the variety of browsers that we have to manage. I prefer not to use virtualization (if I can help it), nor do I want to keep up with multiple laptops.
As such, I keep Chrome, Firefox, and Safari installed on my local machine and use Browserstack to test Internet Explorer and the Windows-variants of the other browsers when (or if) issues arrive.
Miscellaneous Software Tools
For the most part, that's the majority of the tools that I use for development. Below, I'm listing the rest of my tools as well as links to the applications and how I use them.
Productivity
Development
Data
Podcasting
Feeder is the application that I use to create the XML feed for podcasting – it makes it really easy to set episode descriptions, dates, and other meta data that's read by iTunes when displaying a podcast in the iTunes store.
WireTap Studio is what I use to record interviews and conversations in podcasts. It's the next best thing to having a software mixer.
Miscellaneous Hardware Tools
iPad
As far as using an iPad (and iPhone) is concerned, I'm what one of my partners dubbed "an app minimalist." That is, you're not likely to find anything beyond a handful of apps on the machine beyond what I need to get work done.
iPad-specific Applications
Sure, I still have things like Netflix and Hulu installed, but other than those two and what I've listed below, there's almost nothing else on the device:
Bamboo Paper. I've tried a number of notetaking applications and ended up settling on this one. Its Dropbox and Evernote integration along with its support for handwriting (while resting your hand on the iPad) is what won me over.
Paper by Fiftythree. When it comes to sketching high-level diagrams or ideas for pages, interfaces, or screens, Paper is hands-down the best application for doing so. I've been using it since version one and have never looked at a competitor.
iPad Editions of Desktop Applications
The rest of the applications that I have installed on my iPad are mobile versions of applications that I already have on my desktop and that I've covered earlier in this article.
1Password
Dropbox
Reminders
iPhone
Just as with my iPad, I have very few apps on my iPhone. Aside from the stock applications, social applications, and Nike+, I only run a handful of applications.
iPhone-specific Applications
Pocket. Pocket is a cross-platform application that's designed to make it easier to capture content that you want to read, but may not have the time to read due to time constraints, web surfing, or whatever else. Being able to capture the content and read it later is exceptionally easy thanks to the browser extensions.
iPhone Editions of Desktop Applications
Once again, the rest of these applications are simply iPhone-variants of desktop applications that I already use. As I said, I run very few development-related applications on both mobile devices:
1Password
Basecamp
Reminders
Day One
That's All (For Now)
Half the time, I think we blog as much for ourselves as we do for others. In this case, this post is a little of both. Since I'm often asked about what tools I use, I wanted to list of everything I use across my devices, as well as have a list of all of the things that I use for my own reference.
Of course, this post is subject to change. As new applications are released, software is updated, or things simply change, I'll likely be adding, removing, or changing some of the content.
Finally, it's highly likely that someone else is using an application that'd benefit us all so feel free to share your favorite applications in the comments.