One of the problems I seem to have (among many, some may say ;) is I can't seem to find a consistent way to manage bookmarks.
I don't mean I have a problem using the "Favorites" or the "Star" feature in my web browser. I mean I might as well toss the page into a black hole if I use those features. They are a pain to organize, search, and – for whatever reason – feel like an after thought in terms of features of a browser.
And I've tried a number of different ways to go about managing this – if you name it, I've probably tried it – and it's not from lack of knowledge of available applications for things like this either.
But it wasn't until I found Stache I felt like I finally found a utility that made it easy for me to save resources as I was browsing the web, categorize them as needed, and then be able to search them later using any of my devices.
Stache Those Bookmarks
When I first found Stache in the App Store, I was a little skeptical. The description was:
Stache makes it quick and easy to collect and re-discover pages you find useful, interesting or inspiring, in a beautiful, visual and fully searchable library.
And I thought:
"Come on, like you're already doing something the majority of us haven't tried?"
Truthfully, there are other similar applications doing the same thing as Stache but none of them happen to fit into my workflow the way this particular app does. That is to say although it works for me, it may not work for you.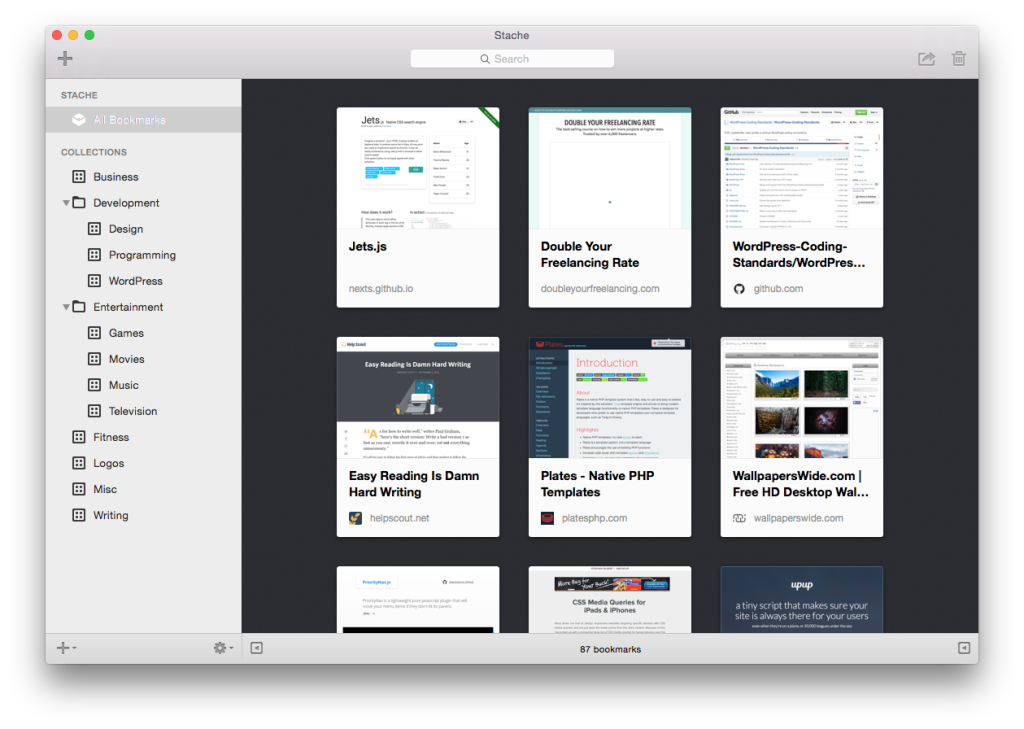 Ultimately, what won me over was:
The simple user interface
The bookmarklet that allows me to toss links (resulting in screenshots) into the app while browsing
The ability to search
Creating collections of bookmarks
Creating folders of collections
Syncing all of the data between all of my i-devices
Having a share sheet within iOS allowing me to send it to other applications on the device
Sure, there are plenty of other ways to make this work. For example, I'm a big fan of Evernote so having a collection of notebooks and using the Evernote web clipper would work. But I don't use Evernote for things like that.
Obviously, I still use it. I also continue to use Pocket for saving articles.
But having a dedicated app specifically for this purpose has made it easy for me to manage the variety of resources and tools I come across and don't want to forget.