Local WordPress Meetups, versus WordCamps and other similar events, are really cool events if you can find them in your area.
Luckily, I live in a place where there are meetups for users, for developers, for those looking to get started in WordPress, and everything in between. Needless to say, I'm proud of the Atlanta-area WordPress community (speaking of which, are you coming to WordCamp Atlanta?).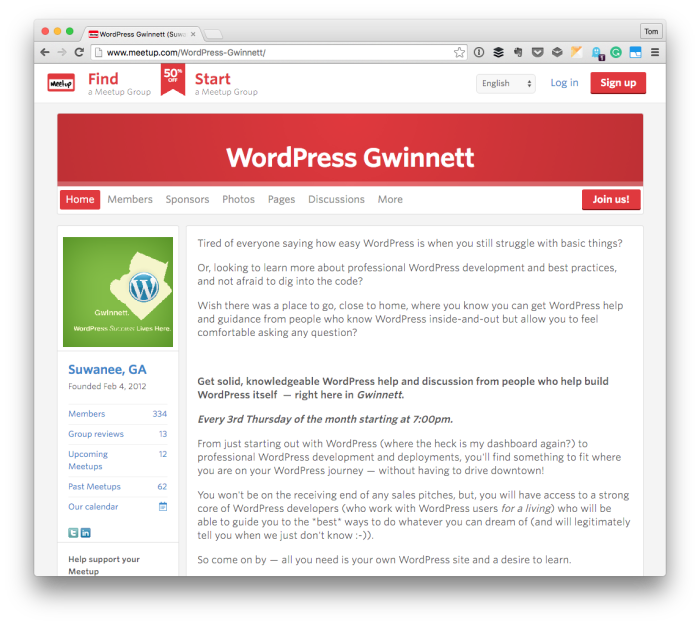 A few years ago, I participated in my first local WordPress meetup: WordPress Gwinnett. It was generally what you'd expect. There were neat people, solid topics that were being discussed, and people learning about what other people were up to in their day-to-day with WordPress.
But then life happened (in a good way, to be clear) and I had to step away; however, things have settled and I'm ready to get back into attending the meetups the first of which is this week.
Local WordPress Meetups
One of the things I enjoy most about local WordPress meetups is meeting other people who are doing really cool things with WordPress. After all, it's near impossible to try to cover everything with WordPress without adequate time, right?
Besides, I think many of us spend time specializing rather than generalizing which means that we've all got something to offer one another.
WordPress Gwinnett
I don't know how your local meetup is structured (though I'd be interested to hear, so please share it in the comments), but for the upcoming year ours is going to consist of the following:
A happiness bar in which people can drop by to get answers to their questions,
A developer-oriented talk in which we'll be covering a variety of topics throughout the year.
We're meeting on the third-Thursday of every month for a couple of hours. For more information, be sure to checkout the meetup page (though we're working on a separate, more official and organized website that should be launching sooner rather than later).
Despite the fact that I've not been involved for the past year-to-year-and-a-half, I have to share that I'm excited to be participating in the group with the following people.
If you've not meet any of them (or you're not following them via Twitter), I highly recommend it. These are really bright people doing some really neat things.
Over the course of the year, I hope to share a bit about some of the things that have happened are the local meetup, some of the swag that we offer, and the content that's available to be shared via GitHub.
In the meantime, if you're in the Atlanta-area (or the northern suburbs), then feel free to checkout the meetup page, RSVP, and stopby this week.
And Your Local Meetup?
All that said, each meetup is a bit different, right? To that end, I'm curious as to how you run your local meetup or how your local meetup is setup.
I'd love to be able to exchange and evaluate ideas if for no other reason than to see what works, what doesn't, and see what can be done better to make sure our local WordPress meetups are of the highest quality.
If nothing else, perhaps it'll set the tone for the city-level meetups (or state-level meetups depending on how you look at it) and will help the WordPress economy continue to grow.