There's a lot that can be said – both good and bad – as it relates to those who work within the confines of WordPress.
Sure, there are those who spend our days building things for others and who don't generally converse with the rest of us via whatever social network we prefer, but there's also a lot of us that do chat daily.
And though the conversations aren't always as pleasant as they could be (but what conversations are?), one thing that WordPressers (is that what they're called?) are exceptionally good at doing is coming together for a common cause to help someone go further in their career.
Case in point: Follow along with what's recently happened with Julie Kuehl and her desire to become a better WordPress contributor.
Julie Kuehl's WordPress Journey
About a month ago, Julie spun up a GoFunMe campaign to help raise money so she'd be able to trek out to Omaha to attend a course that the team over at Flywheel has put together.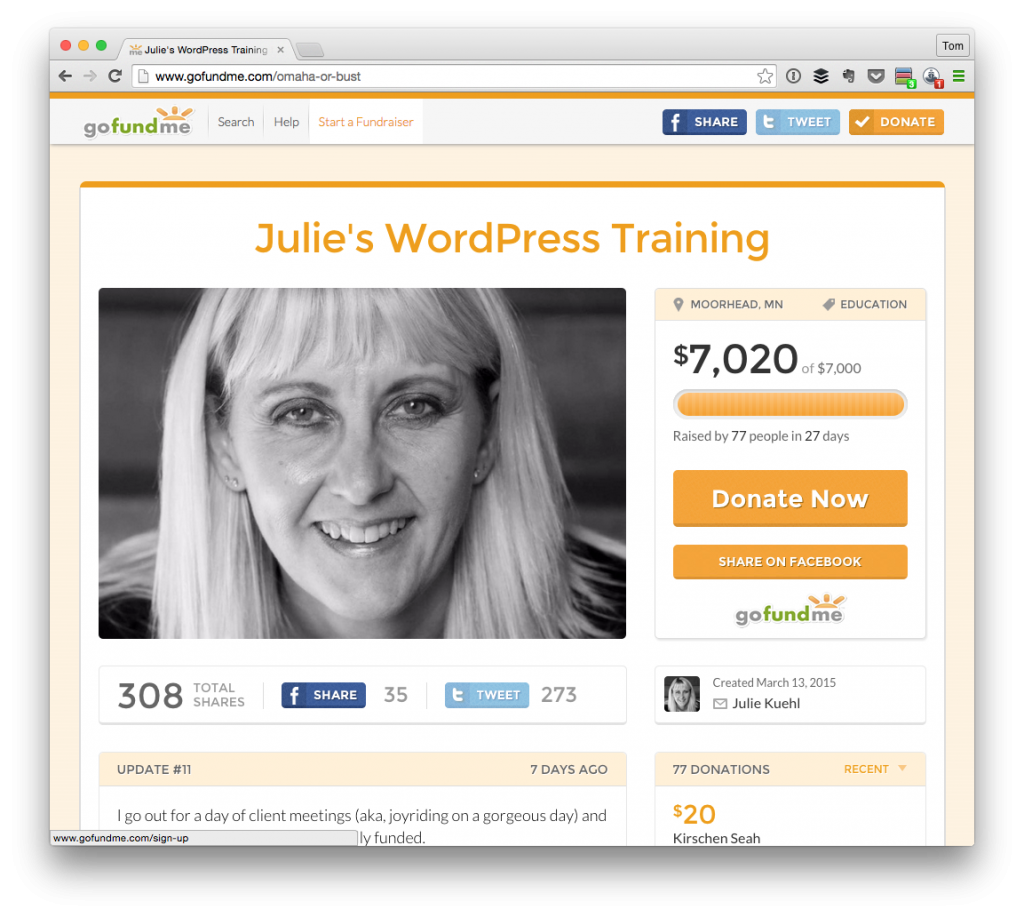 In her own words:
Pretty much anyone who knows me at this point knows how passionate I am about WordPress. I've been teaching myself to be a developer for a couple of years now, but still struggle to put it all together. The folks at Flywheel are offering just the course I've been looking for  — in Omaha.

This course caught me totally unprepared, but it almost feels like they created it just for me. I'm ready to drop everything to make it happen. However, the tuition and lodging are a bit more than I'm comfortable committing to by myself. I'm going to need help to pull it off.
Sounds neat, right? And it can definitely be pricey so setting something up like this is brave. But for someone who has a dream to pursue and has the means to make it a reality, you can't help but deny that it's a really cool thing to be doing.
Fast-forward one month and Julie's project was fully funded, she's in Omaha, and she's attending the course that she set out to attend roughly 30 days ago.
But here's what's possibly the coolest part: Julie is blogging about her experience in living in Omaha for the time being, attending the course, picking up on all of the things she's learning, and all that jazz.
We're getting to see the live (well, okay, semi-live) results of what it looks like to fully fund a GoFundMe campaign and watch someone take full advantage of it.
So for those of who contributed, who are thinking about getting as deep as possible into WordPress development, or who just enjoy seeing the results of a campaign like this, I'd recommend checking out the blog and following along over the next few weeks.
I think it's going to be more than interesting to follow along.
But Why Does This Matter?
Maybe it seems odd to bring up a single person's journey into WordPress. And I know – not everyone raises funds to pursue their trips into learning about the application and how to build things with it.
That's a case-by-case basis kind of thing, and that's how it should be.
But when you read posts like this that talk about how developers literally dread working with WordPress, and then you see people raising money, and taking trips to learn more about the project, it seems as if there's a disconnect somewhere, doesn't it?
I have more of my own thoughts on the link above that I'll eventually get to writing about, but I think it's important that we all look at the bigger picture:
WordPress is a massive project with a huge following and people are looking to spend their lives working on it and working with it to make it better.
That's a really impressive, a really admirable, and a really exciting thing. To that end, we don't need to lose focus on that.
So as we're watching our peers trip out to places in order to learn the application all the while reading about surveys and other developers continue to talk about how much they dislike WordPress, we should be mindful of the role it's playing in people's lives and how it's continue to do so.