Many of you are likely familiar with Office Hours with Carrie Dils. But if not, here's what the show is all about:
Every Thursday at 2p ET as Carrie interviews a variety of folks within the WordPress ecosystem, from plugin developers to marketers to business owners. The one thing they have in common? Each guest has found business success through leveraging WordPress as both a tool and a platform.
I had the honor of appearing on the show in previous episodes and had a great time. I also recommend tuning in when you have a chance as it's a great, free opportunity to hear and learn from others.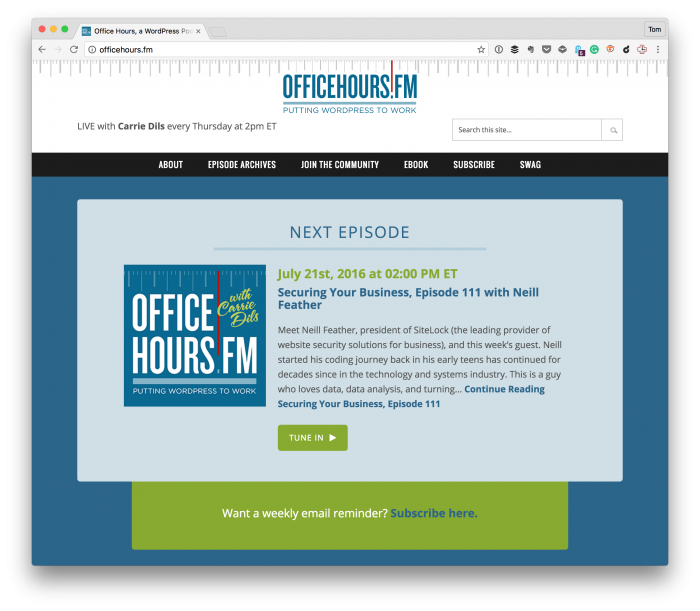 Weeks ago, Carrie celebrated her 100th episode (which is an awesome feat in and of itself).
Office Hours with Carrie Dils
Though it's been a few months since this episode aired, Carrie and I have talked about doing an episode where we flip the process around a bit and we let the audience run an episode and interview Carrie.
And that's what we're planning to do.
This Thursday, July 28th, the next episode of Office Hours will run as normal. Carrie will have the feed set up and will be recording, airing, and available on Twitter as usual.
But here's the change: Rather than Carrie interviewing someone on the show, we'll all be able to interview her.
Specifically, here's the plan:
Though Carrie will be running the show as normal, I'll be "hosting" the episode by acting as a proxy for the questions, monitoring Twitter, reading questions you've sent to me, and so on.
Because we want to make sure the episode is as off-the-cuff as possible, I'd like to have questions either submitted via email or submitting on Twitter (versus having the submitted in the comments of this post).
For those who have never tuned into the show, you can get all of the information on the show's homepage. Plan to tune in at 2pm EST.
If nothing else, remember to tune in and to follow the hashtag on Twitter. And for those who want to participate, you can contact me using the form on this page or via Twitter, as well.
Finally, congratulations to Carrie for 100+ episodes of her show. Now let's use this opportunity to have some fun and also learn from her.