Before the holidays (though at the time of this writing, I suppose we're still in the holidays 🤔), I wrote a little bit about keeping domains, hosting, and email separate. In that post, I happen to mention Kinsta for hosting, as well.
Recently, I was interviewed for their blog as part of a blogging series they're doing with some people in the WordPress economy.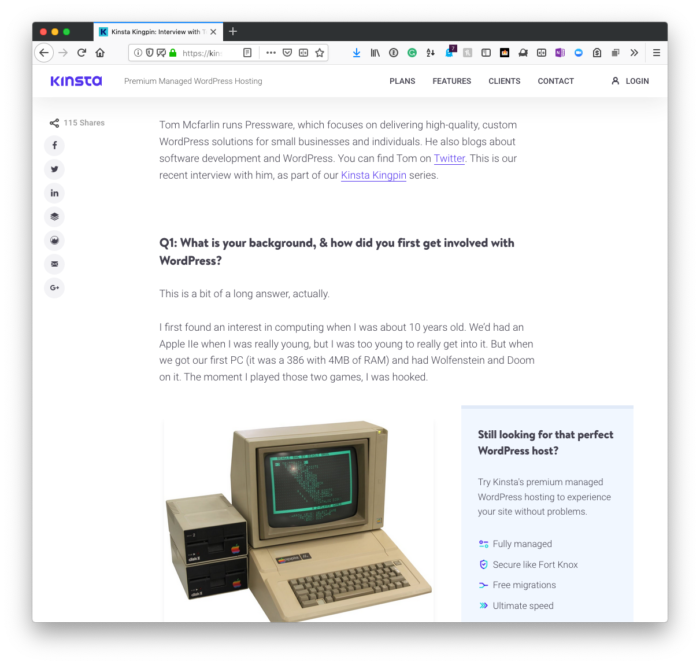 Though I never know if these interviews are interesting for others, I always enjoy what others have to share, so I opt to share whenever something like this is published.
On Visual Basic, College, WordPress and More
Though you can read the interview in its entirety, I answer the following questions:
What is your background, & how did you first get involved with WordPress?
What should readers know about all the stuff you're doing in WordPress these days?
What challenges did you face in getting to where you are now professionally?
Has anything surprised you while coming up in the WordPress world?
What does the future look like for you in the WordPress world?
What do you look for in a WordPress host?
What do you enjoy doing when you're away from your laptop?
Whom should we interview next & why?
Though each of the questions is self-explanatory, I talk a bit about my growing up in computing, what I'm working on now, and what I plan to cover in the coming year.
So if you're still on holiday, are looking for a semi-short read, and are looking to do so from someone else who is involved in the WordPress economy, you can check out my interview.
For what it's worth, I do appreciate Kinsta for giving me the opportunity. (I do still enjoy their hosting, and no this is not a sponsored post, comment, line, sentence, or any of that. 🙂)