Earlier this year, I talked about the move from Pressware to WebDevStudios but I didn't go into much detail. However, last week, I had the ability to do a deep dive into what it's like to work to work with an agency again.
But it's more than just work.
Self-Employment to Employment in WordPress
First, this isn't a prescriptive move for anyone. This was purely a decision that my wife and I made based on the quality of the organization, my desire to grow as an engineer, and to continue working in the WordPress space.
Secondly, if you're planning on reading this as some type of marketing post, don't. This is me sharing what it's been like working in WordPress for roughly a decade in a variety of capacities.
And it's about me making one of the biggest professional changes that I've made (and that I didn't plan on making). The TL;DR is that I absolutely dig it.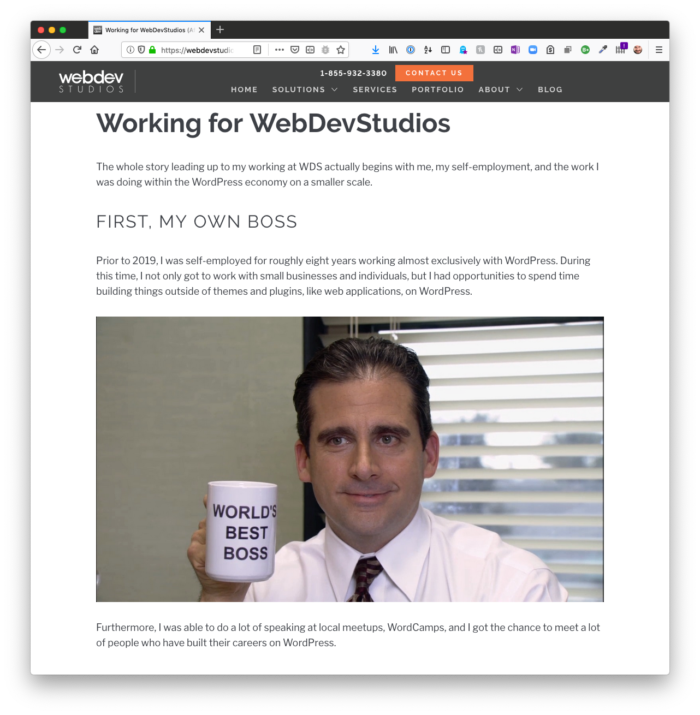 As you'll see in the post, I cover the following topics:
Working for WebDevStudios
What's It Like, Really? (arguably, the million dollar question)
Engineer Onboarding
Remote Work (which isn't really new to me but it might be for you)
Communication
The Team
Our Partners
Client Projects
Project Management
Engineering Culture
Deadlines
Company Culture
And I could share more, but the post is already long enough for a short e-pamphlet.