When creating a new WordPress website, one of the first challenges you face is finding a well-coded WordPress theme with a unique design that helps your website stand out from the crowd.
While there are many WordPress theme marketplaces out there filled with thousands of themes, finding a bug-free theme with a fast and responsive design and with great customer support is like looking for a needle in a haystack.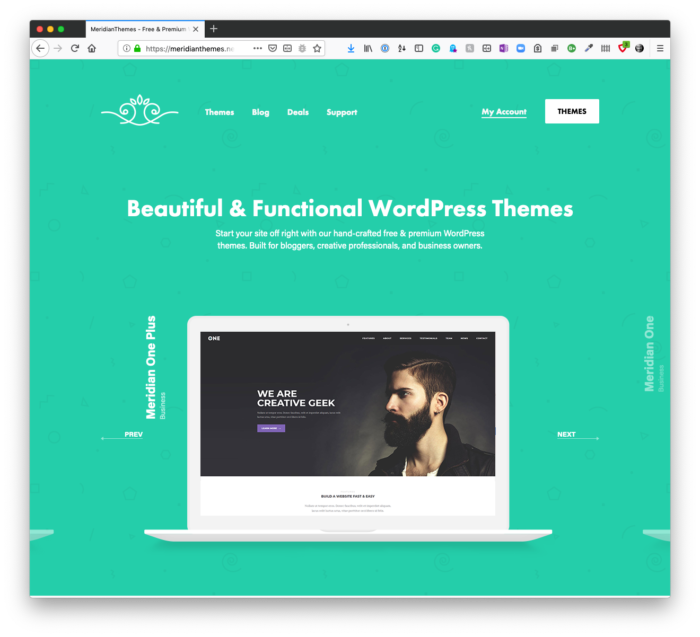 This is why MeridianThemes is refreshingly different. Unlike most other WordPress theme marketplaces, MeridianThemes is a high-quality theme development shop with a collection of themes that are hand-crafted by a team of professionals.
Themes Crafted with Best Coding Practices
MeridianThemes include a curated collection of themes you can use to make modern blogs, business websites, magazines, and even personal websites. All of their themes are crafted by an in-house team following the best industry practices and standards.
Needless to say, you won't have to worry about running into bugs, plugin incompatibilities, or distorted designs on mobile devices when using these WordPress themes.
Easily Customizable Designs
One of the best parts of using WordPress to build a website is the freedom it gives you to customize the design and extend website features with plugins.
All of the themes made by MeridianThemes are hand-crafted with this goal in mind. Their themes are fully compatible with all of the popular WordPress plugins and provide many different options for easily customizing and editing the theme's design to your preference.
Optimized for Speed and Search Engines
Optimizing your website to offer a fast and responsive experience is one of the key aspects of making a successful website. It not only helps improve your website's user experience but also allows you to rank your website higher on Google search results pages.
Google especially pays attention to page loading speeds and the mobile-friendliness of websites when indexing and ranking websites. You won't have to worry about those factors when you're using a theme from MeridianThemes.
All of their themes are fully optimized for search engines and features responsive designs that make your website look amazing on all types of devices and screen sizes.
Expert Support from Developers
If you're new to WordPress and don't have much experience in customizing WordPress themes or setting up websites, it's important to have fast and responsive customer support from the developers of the theme you've bought to have all of your questions answered without having to wait days for replies.
Sadly, this is not the case with most theme developers who sell themes on popular marketplaces. However, MeridianThemes promises fast and friendly one-on-one technical support to help you through all your problems.
MerdianThemes care about each and every customer and they put more effort into delivering high-quality user experiences. Above all, they also offer all these features at an affordable price as well.
MeridianThemes also has a blog full of useful guides and tips as well as a Deals section with discounts on web hosting. Check out their collection of premium WordPress themes.