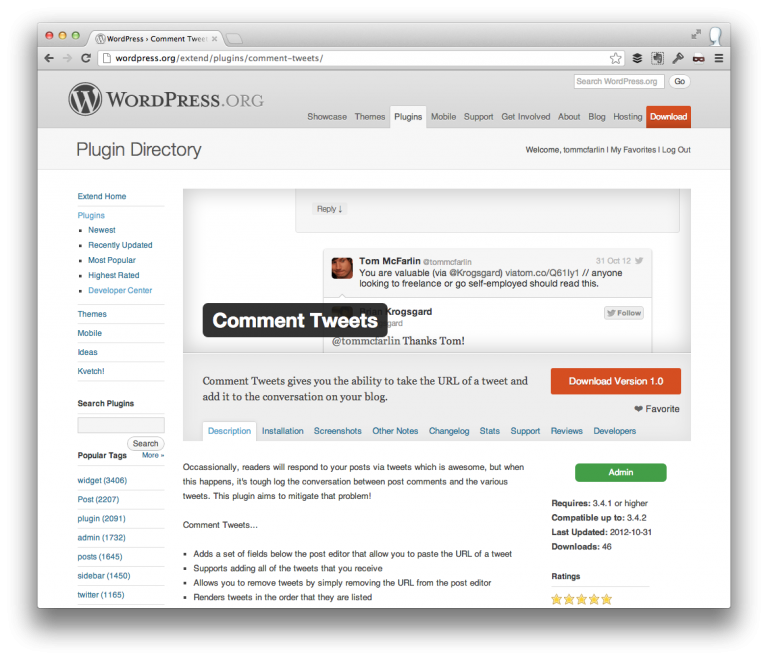 For the past couple of weeks, I've been recording a premium screencast for Envato in which I share how to build a WordPress plugin from the ground up using professional development techniques such as object-oriented programming, proper use of Actions and Filters, LESS, CodeKit, and more.
While working on the screencast, one of the things that I wanted to do was to showcase exactly what it's like to build something from the ground up, release it, and then experience the various comments, support issues, and so on. After all, that is the norm for releasing projects to the public.
The result of all of this is Comment Tweets For WordPress.
About Comment Tweets For WordPress
One of the challenges of maintaining a blog is that the conversation gets fragmented among whatever social networks you share your site.
For example, you publish your site and it's picked up via RSS, then you link it up via Facebook and Twitter. A portion of the conversation is going to happen in the comments, some on Facebook, and some on Twitter.
Since I primarily use Twitter, I wanted an easy way to provide links to tweets that would appear directly below the commet feed (but above the comment form) so that I could capture as much of the conversation as possible.
Plugin Features
Generally speaking, Comment Tweets For WordPress offers the following features:
Custom fields below the post editor that allow you to paste links to tweets related to given blog post
Support for adding as many tweets as you'd like. That is, there's no limited number of URL's that you can provide.
Remove a tweet by simply deleting the URL
Renders the tweets in the order that you list them in the dashboard
Styles are provided by the native Twitter API
This is very much a 1.0 plugin, so any and all feedback, feature requests, and bug reports are welcome.